This recently revamped resort and spa is a standout for luxury and affordability among Napa Valley hotels.
This post contains affiliate links. As an Amazon Associate, I earn from qualifying purchases. Read my full disclosure policy here.
When we planned a trip to Napa Valley for my birthday, little did I know that we would find a hotel that was so much like a tropical getaway and a trip to Europe all rolled into one.
As I searched hotels, I was getting very frustrated. It was a sea of very expensive, and not so interesting choices. Thankfully, I found Indian Springs Resort and Spa in Calistoga, CA., at the north end of the Napa Valley area. It was priced well below hotels in Napa proper, and had so much more to offer.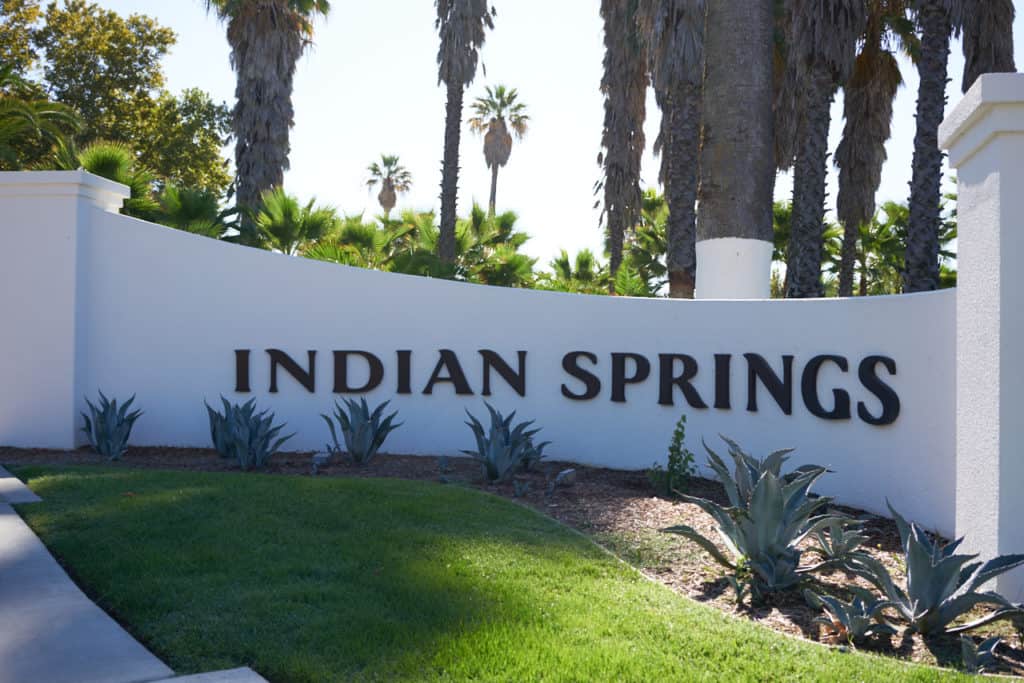 Yes, I said "resort" and "spa". I had no idea that such a thing was an option in Napa. (You can tell I'd never been there before, right? Now I know it's a thing.)
Featuring two swimming pools fed by thermal springs and towering, gorgeous, palm trees, it zeroed in on a sweet spot for us. I couldn't believe it. This place looked like a cross between Baja and Budapest.
Honestly, I was a teeny bit afraid that it was too good to be true. That it might be good but not great. How could a place that combined so many of our favorite things – dry heat, palm trees, wine-adjacent, and healing thermal waters – actually exist outside of dreams?
Well, it does exist, and it did not disappoint.
Indian Springs is family-run, with a welcoming staff. The historic property recently underwent a $20 million renovation – rooms were redesigned and refreshed while keeping their unique character, and new buildings with scenic views added 75 additional guest rooms.
Sam's Social Club is a new-ish restaurant on the property, serving breakfast, lunch and dinner.
People have been coming to Indian Springs for more than 100 years to soak in the mineral-rich waters of the geysers on the property. Nowadays, there are two geyser-fed thermal pools – one is for adults only – where you can lounge all day and into the evening.
Food and beverages, including cocktails, are available poolside - charge to your room!
Bicycles are provided for tooling around the property or tooling around town. There is a full-service spa on-site, offering everything from Swedish massages to mud baths in volcanic ash.
We did not splurge on the spa since we were in the Napa Valley to splurge on dinner at The French Laundry. You can read all about that here.
How to spend a perfect day at Indian Springs Calistoga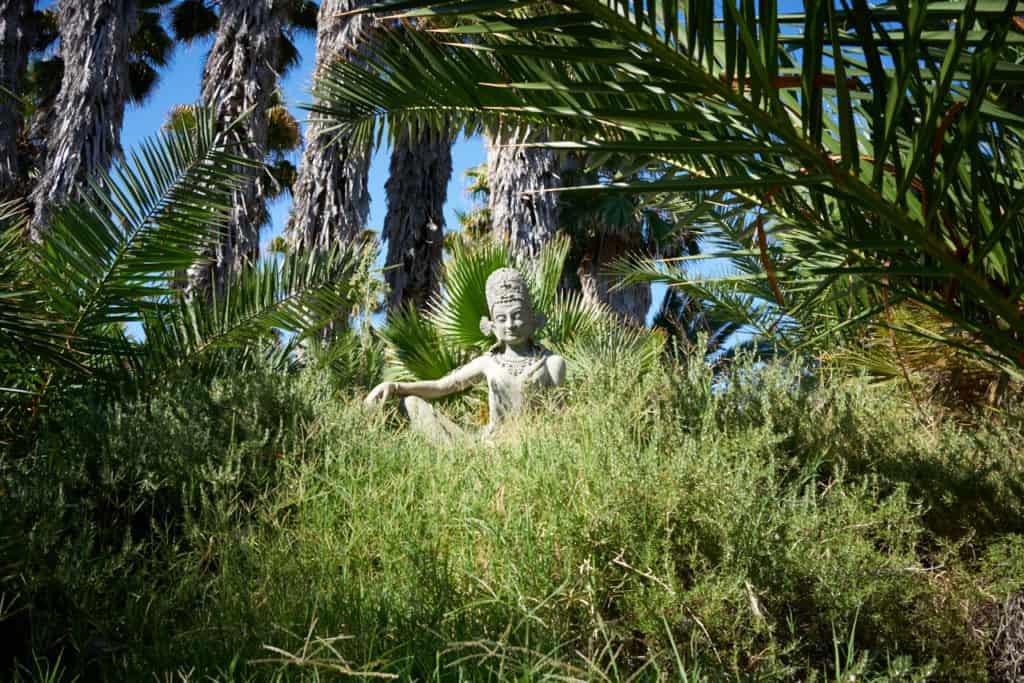 This was our daily ritual.
Get up early, get a fresh cup of free coffee at reception and say good morning to the friendly staff.
Circle around back to see the garden and smell the roses. (You can see the morning fog is still hanging low over the mountains in the background of this photo.)
Stop by to find out what the chickens are up to.
Then walk the grounds, making sure to climb up the hill near the old reservoir on the property. You can sit on a bench at the top and watch the clouds burn off the surrounding mountains as you sip.
Head down the hill and have breakfast at Sam's Social Club. Hopefully it won't be too chilly to sit outside on the gorgeous patio and drink in the sun coming up over the valley. You can charge your meal to your room.
Change in to your suits, and head to the pools! The Mineral Pool is Olympic-sized and was built in 1910. We spent most of our time lounging by the adjacent Adult Pool, where it's a little quieter. Order lunch and drinks, swim in the healing mineral waters, relax, and nap!
Fancy a game?
Bocce ball?
Lawn chess?
Any of these entertaining distractions could keep you occupied until happy hour rolls around. Sam's Social Club has great happy hour specials.
You don't ever have to leave the property – well, you have to at some point to go back home – but if you want to, you can find Cal-Mart right across the street, with groceries, a salad bar, picnic items and ready-made foods to take to wineries, eat by the pool, or enjoy in your room.
Or, walk down the street to any number of coffee shops, tasting rooms, bars and restaurants in Calistoga. Indian Springs is right on the main drag and it's only a few blocks long so you can be anywhere in town within 10 minutes.
Rooms at Indian Springs Calistoga
Indian Springs has a variety of room classes from 1930s lodge rooms to 2-bedroom cottages to private houses with full kitchens.
We reserved a ground floor Lodge room.
The spacious room had exterior doors on either side, one facing the resort, and one leading to the parking area. The resort-side door opened to a tranquil lawn with a water feature and seating area. We enjoyed wine and snacks out there on a few nights of our stay.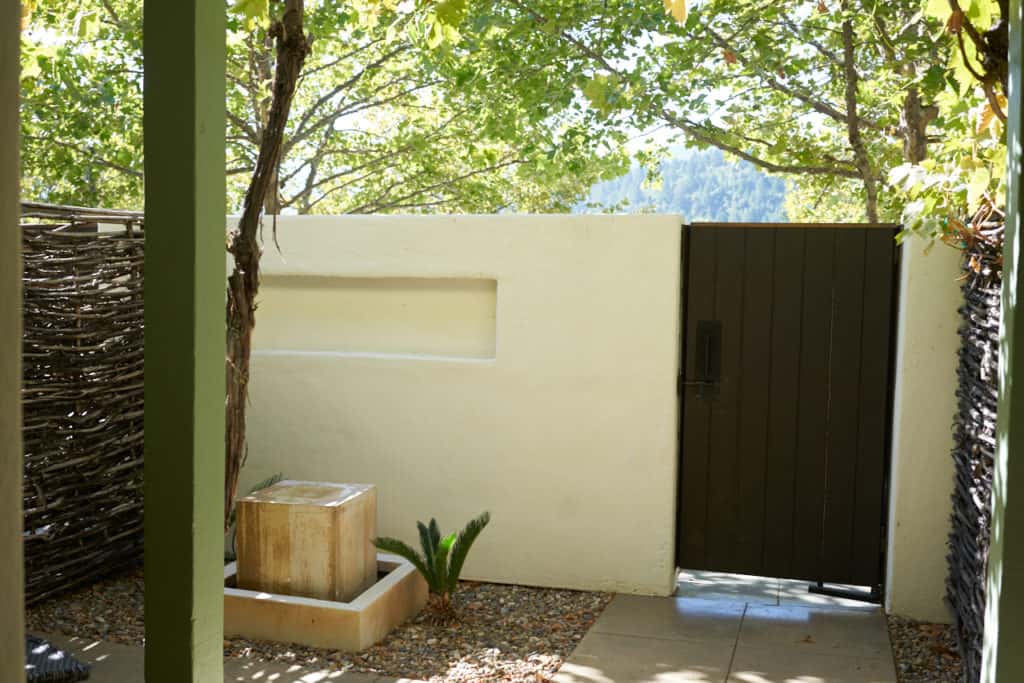 The other door led to a private, walled-in patio that faced the parking area.
Room amenities include a coffee machine that made very good espresso, a little snack basket, a mini-fridge, bath robes, and verbena-scented bath products.
If you go:
Indian Springs is great for families with kids, couples looking to get away from it all, or a girls trip getaway.
We found more families there on the weekend, weekdays were quieter with less children.
Monday - Thursday pricing is more affordable than weekend nights. The hotel sometimes offers special discounts for multi-night stays.
Room rates are generally cheaper in the Napa Valley during the winter months.
Go ahead and make dinner reservations at Sam's Social Club - it's a popular local spot, so you may have to wait for a table otherwise.
Overall, the resort is very quiet, luxurious, and comfortable. It really feels like you are getting away from it all.
Shop the travel gear I took on this trip
This post contains affiliate links. As an Amazon Associate, I earn from qualifying purchases. Read my full disclosure policy here.