A visit to Mercado Little Spain, a project by chef José Andres. A food hall with bars and restaurants in Hudson Yards, it's a tasty sampling of all things Spanish food! From paella to jamón, and croquetas to patatas bravas, it's all here!
Mercado Little Spain is a food hall that will feed your Spanish food cravings - or introduce you to wonderful new flavors if you've never tried Spanish dishes before.
Located on the lower level of the Hudson Yards shopping mall in New York City, it offers a welcome place to recharge and refuel after climbing The Vessel outside, or walking along the High Line. (Or if you just want to eat a lot like I did!) You can sit down for fine dining at one of its many restaurants, or just graze from the quick food counters located throughout.
Chef José Andres, founder of World Central Kitchen, was inspired to create this temple of Spanish food by the many markets in his native Spain, which are so much more than just a place to get your groceries. They feature coffee spots, food counters, bars, and more. They're a place for socializing as much as shopping. Why not do both at the same time? Fab idea if you ask me.
Having visited a couple of amazing markets in Spain while traveling, I was excited to try this place (read: spend at least 3 hours eating and drinking or as long as my family would tolerate it...)
Spanish cuisine may not be as familiar as Italian or French to most people in the U.S. It's far more rich and diverse than many people expect, and also very accessible - fresh seafood, good bread, cured ham, sweet treats, and more.
My strategy was to find a home base, then rotate around to the different stations so we could try everything. Or at least, almost everything!
Right when we walked in the door they were selling Sangria popsicles. I mean...
Who's gonna say no to that? Not me.
Next stop: Ham!
You can get a little cone with ham and breadsticks and walk around, or you can get a ham/cheese combination plate and take your time like we did.
Select different brands of Spanish ham and different amounts of aging, the menu offers several choices and combinations.
Next? Tortilla española!
This is a Spanish classic. Sometimes called a Spanish omelette, it's made with potatoes and eggs in a skillet.
I have to say this was a bargain! It was only $5 for ¼ of a small round, or $16 for a whole one and it came with bread! This was very filling and $5 is a steal if you are looking for a cheap lunch - hard to find in NYC! We were sharing with 4 people, so I got ½ a round.
Now on to yummy fried things. Patatas Bravas!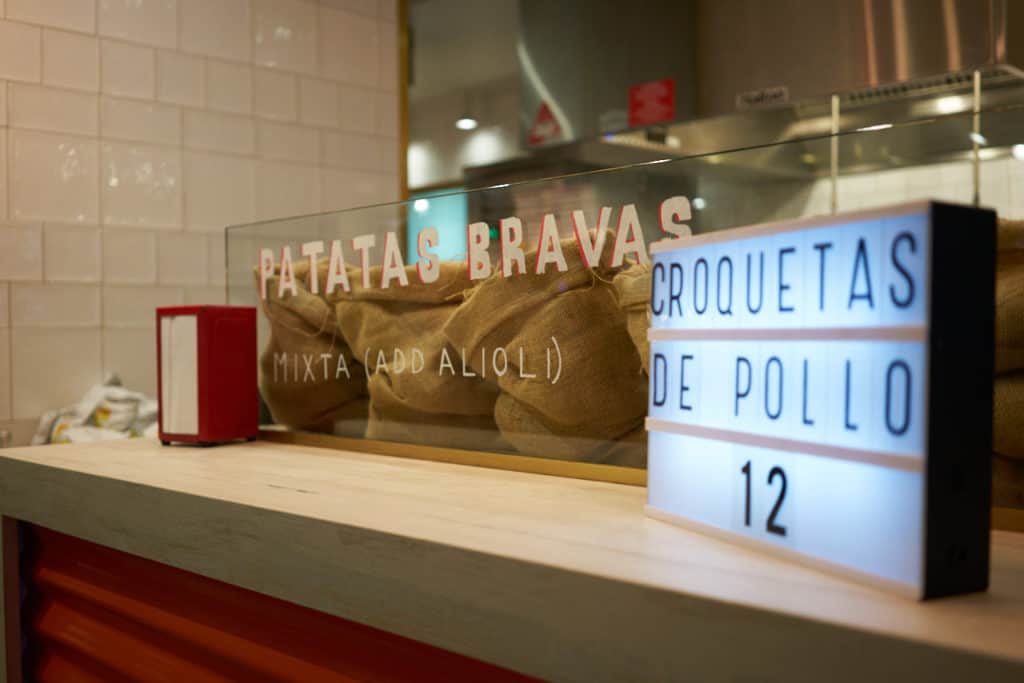 Why are these fried potatoes so good? Because this tomato sauce is so much more than tomato sauce and because alioli is so much more than mayonnaise. And because fried.
Let's not forget dessert!
Had to go for the flan.
That custard-y, caramel-y classic didn't disappoint.
We spent a couple of hours trying various bites from different kiosks between four people, we had paella and croquetas in addition to the photos I've shared here. I could have easily sat down at one of the bars or restaurants for the whole afternoon. There was a lot more to try and I'm looking forward to another visit!
Tips for visiting Mercado Little Spain
The entrance is at 10th Ave. and 30th St., right on the High Line.
It's open 7 days a week, from 7am to 11pm, serving breakfast, lunch and dinner.
Nearest subways: 7 train to 34th St. Hudson Yards or A/C/E trains to 34th St. Penn Station.
There's something for every budget, from inexpensive sandwiches and snacks, to fine dining restaurants.
Leña, Mar, and Spanish Diner are all sit down restaurants and you can make reservations for up to four people at each restaurant online.
Mercado Little Spain is in Hudson Yards, the same development as The Vessel, the giant sculptural spiral staircase. It's a good spot to rest after climbing or to wait for the time slot on your time ticket.
A visit to Mercado Little Spain is a great way to try Spanish food if you've never had it before. Small portions and reasonable prices make it fun to try something new and share with family and friends.
Spanish Recipes
Can't visit yet, but want to try some Spanish flavors? Check out these Spanish recipes: