I used to be a waitress in a Spanish tapas restaurant. (I was a waitress many places, so if you are keeping a running total, add it to the list.) And of course, as a server, you want to try all of the things on the menu so that you can explain it to your guests. But since we still had to pay half price and shrimp isn't cheap, I waited to try this until there was a 'mistake' from the kitchen. That's when the kitchen makes one too many, or some other such problem – which happens a lot at a very busy small plates place – and the staff gets to eat it real fast back in the wait station.
Yes that happens. What would you have us do, throw it out?
Some stuff was not such a big deal, but garlic shrimp? Everybody wants that. It was a sad day if you came around the corner only to find that everyone else had gotten to it first. If you were lucky, maybe there would still be some garlic and olive oil that you could sop up with a slice of bread to keep you going until the shift ended.
What is it about shrimp that we love so much? It's so special. We save it for 'occasions.' Well, this is a recipe that you don't have to save. Make it on an occasion, yes, but make it on a weeknight, too.
And right now, it's so hot. Even stove top cooking seems like too much. You want to give up and just have a salad. And trust me, I love a salad. But sometimes you do want food that has actually been cooked. You only need one pan and one burner for this. Just put it in a skillet real quick, and dinner is ready. By the time you turn over all the shrimp, it's done. Put the skillet on the table and eat directly from it. Dunk some bread in there. Couldn't be simpler.
In college, I was your friendly neighborhood seafood counter girl. (Add to the list you are keeping of my previous food jobs.) So here are some shrimp buying pro tips:
Shrimp in the full-service seafood case is always more expensive and has been previously frozen. You are not getting fresh shrimp.
Peeled and de-veined shrimp are more expensive. I personally don't mind shelling shrimp. This is one of those cooking tasks that become very zen-like to me.
The vein will not hurt you, and guess what – there's one on the other side of the shrimp, too, that no one ever takes off. I got de-veined ones (still in the shell) for this recipe because they just happened to be on sale, they were actually the cheapest option. Otherwise, I would not have bothered. I also think the freezing process after they have been both peeled and de-veined beats up the meat a little. So if you have the cash, hate to peel, and the vein bothers you – go for it. If not, no worries.
Shrimp are sold by number per pound. So, 21/30 = 21 to 30 shrimp per pound, 31/35 = 31 to 35 shrimp per pound. The size names "Jumbo", "Large", etc., can vary from store to store, so learn to judge how much you are getting by the number, not the name.
So look for frozen shrimp when it's on sale. That way, you can have some in the freezer at the ready if the mood strikes for this garlicky goodness.
Related recipes: Want more seafood ideas? Try Almond Orange Mole with Grilled Halibut, or Salt Baked Whole Fish.
Garlic Shrimp (Gambas al Ajillo)
Adapted from Food & Wine
1 lb shrimp – 21-30 per pound size
1/4 cup thinly sliced garlic
1 1/4 cups extra-virgin olive oil
Pinch of crushed red pepper
1/4 cup minced parsley
Kosher salt
Lemon wedges
Instructions:
Remove shells from shrimp, leaving tails on.
Toss in a bowl with 1 tsp kosher salt, let stand 10 minutes.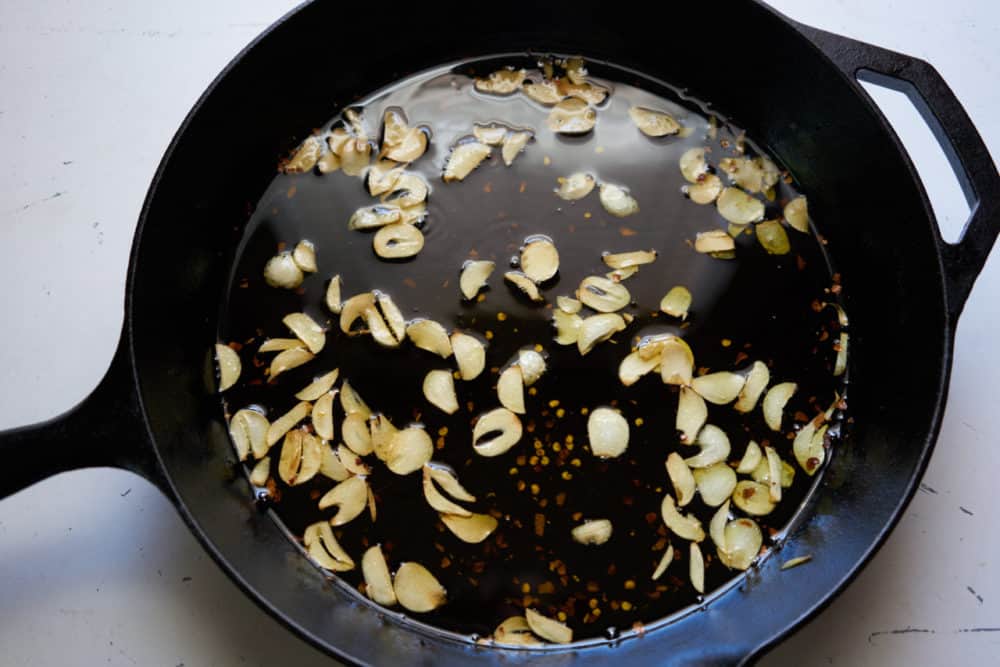 Add the garlic and olive oil to a large cast-iron or other heavy skillet over moderately low heat. You are gently and slowly infusing the olive oil with the garlic flavor. Poaching the garlic, really. Stir occasionally, until the garlic is fragrant and has just barely started to brown.
Throw in the pinch of red pepper flakes and give it a stir.
Add the shrimp to the skillet, keeping the heat moderately low. Keep them all in one layer, don't pile them up.
When they are barely pink on one side, flip them all over and let cook for maybe a minute. When they have all barely turned pink, remove from heat immediately and allow to finish cooking in the warm oil.
The cooking time will vary depending upon the size of the shrimp you buy. But it generally goes pretty fast. Don't walk away! Just remember you don't want to overcook shrimp, but you also should NOT be eating grey shrimp…
Top with the parsley.
Serve with lemon wedges and crusty bread.