Recently, our friends Paul and Sarah invited us to dinner at their house. Well, really, I think we might have invited ourselves. It didn't start out that way, you know, the texting about here, there, brunch, dinner, which one, what time, etc. I think I thought it would be easier to chill at one of our houses than to find a reservation somewhere, and I'm sure I suggested our house, but they just bought a new house with a kitchen right out of a TV design show, so…. maybe I wanted to hang out there. What? Don't look at me like that. I made dessert. I brought liquor. It's fine.
And if you go to Paul and Sarah's for dinner, you can usually bet money on eating something from the Smitten Kitchen. Because, in fact, Paul does all the cooking and he loves her site. Paul is actually the person who first told me about her site. And now I love her site. Who doesn't love Deb? Of course, she is my idol and I want to be her friend. And I'm sure Paul does too.
Bonus – they had just returned from Rome and brought back the most incredible charcuterie I have ever tasted in all my charcuterie eating days – and that's a lot. I think Sarah had to tape it to her body to smuggle it back into the country. I will be forever thankful.
So we had this simple and delicious meal of sausages, potatoes and shallots roasted on a sheet pan and tossed with arugula and lemon juice. I've changed it up to use root vegetables instead of potatoes, since that's our usual weeknight vibe around here.
Spring is coming, but let's face it, it's still pretty cold in the shade. And March and April are still gonna smack us in the face a couple of times before we really get to t-shirt weather. (Like today. Snow! Hello!) So fire up the oven and roast some vegetables while you wait it out.
Can't find parsnips? Use beets or yellow carrots instead. But please, for the love of all that is good and holy, do not use baby carrots. They are not really carrots. Peeling and chopping the carrots is only going to take you about five minutes and can even be very meditative. What you spend in time you will make up in real, actual carrot flavor. Instead of just a roasted hunk of fiber that is orange and tastes like water.
The fat from the sausages is going to render out and coat those veggies with fatty goodness, crisping everything up. Which will also save you from needing a salad dressing. Just a drizzle of olive oil and a squeeze of lemon juice over the greens will do. And it'll help that cheese stick to everything.
So go ahead – invite some friends over, make this dish, and wait for spring together.
Related recipes: Roasted Vegetable Salad with Charred Lemon Vinaigrette
Sheet Pan Italian Sausages and Roasted Root Vegetables with Arugula
Inspired by Smitten Kitchen
1 lb whole carrots, peeled and cut into 1-inch chunks
1 lb whole parsnips, peeled and cut into 1-inch chunks
5-6 Italian sausages in natural casing
6 oz arugula
1/2 cup grated parmigiano reggiano cheese
1/2 lemon
olive oil
kosher salt
cracked black pepper
Preheat oven to 425 degrees
Peel and chop parsnips and carrots. If parsnips are on the thicker side, I cut out that woody center stem. It can be unpleasantly hard and chewy. Just slice a 1-inch chunk, then cut into 4 wedges, and nip off that triangular piece of stem. You can also carefully notch it out with a paring knife. This is not needed on the thinner parts.
Divide the vegetables between two sheet pans and drizzle with olive oil, season with salt and pepper, and mix together. Although you could fit everything onto one large sheet pan, the veg and sausages will not brown and caramelize, they will just kind of steam and get mushy. (Guess how I figured that out?) So if you only have one pan, do this in two batches.
Cut each sausage into three pieces. Place on sheet pan with vegetables.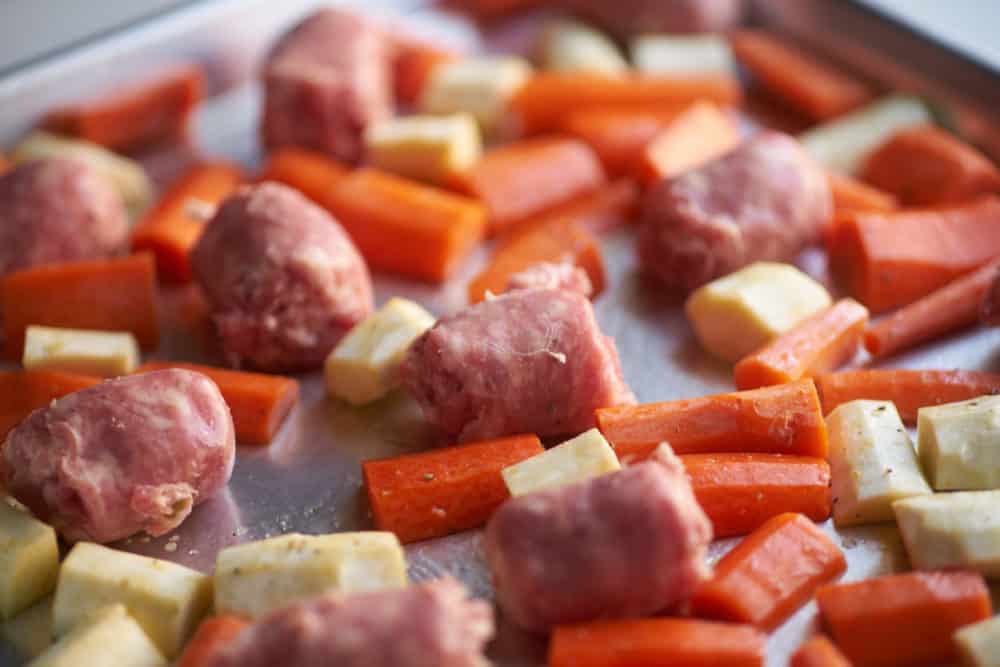 Place in the oven for about 30 minutes, until vegetables begin to brown. Halfway through, stir them up and rotate the pans.
Just before sausages and vegetables are finished, place arugula in a bowl, drizzle with olive oil, and squeeze the lemon all over.
Remove pans from oven, consolidate onto one pan, sprinkle parmigiano over the top and toss altogether. Scoop veggies and sausages onto arugula and serve.