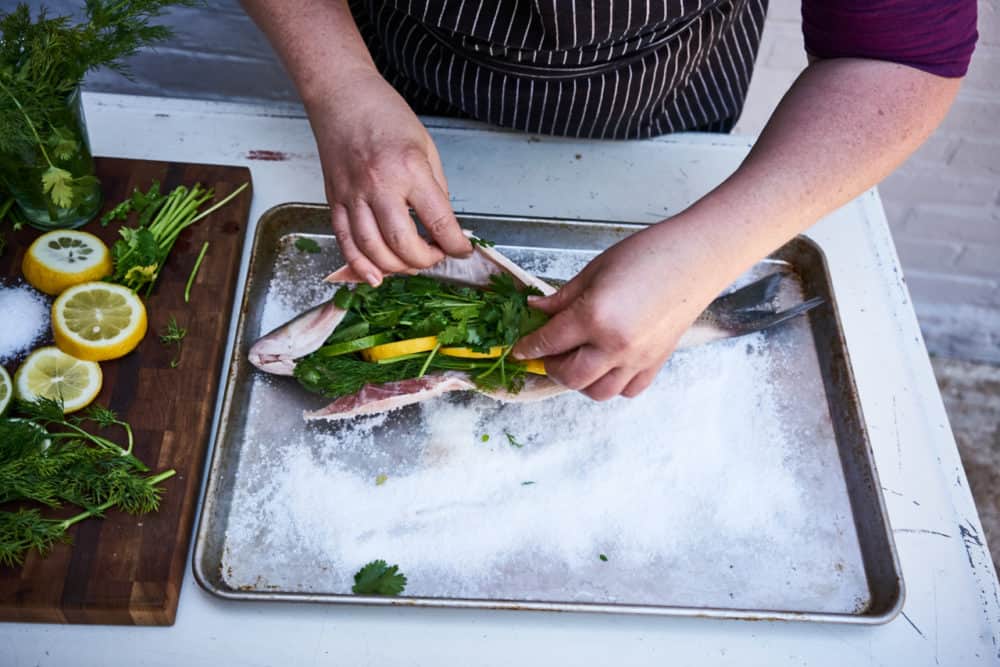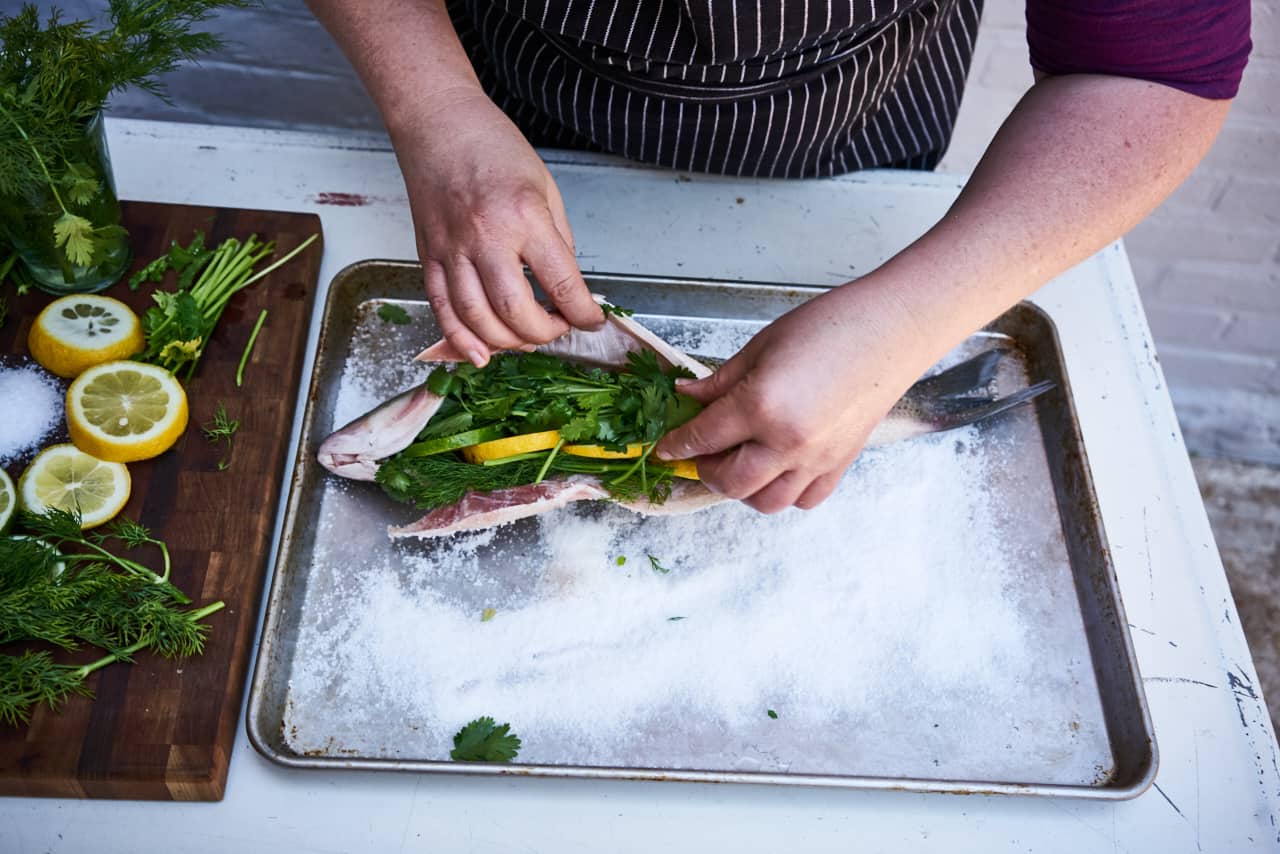 This is one of those recipes that, when I first made it, I wanted to do it so I could say I did it. Bake a whole fish in salt? Who does that? Me.
It seemed very aspriational. Very impressive. Very chef-y.
Well, maybe it is, but it's also very simple. (I know I say that all the time, about lots of food things, but it's really true. About lots of food things.)
The first time I made this, I had it in my head that it had to be red snapper. That's what all the pictures said on the internet. So I called my local fish market to order one for Christmas dinner, and they told me that I couldn't specify size, they give me what they get, and I agreed. What I got was a whopper of a fish, it must have been at least 7 pounds. It barely fit on the sheet pan.
I think I bought two boxes of kosher salt, going by some arbitrary notion that I had put together during my research. As I began to make the salt crust and apply it, it became painfully obvious that I did not have nearly enough salt. I was freaking out a little, already up to my wrists in the salt mixture, fearing utter failure at my aspirational, chef-y attempt of this culinary feat. Just then, my husband was running out to the local bodega and asked if I needed anything. "More kosher salt!", I screamed. "How much?", he asked. "LOTS!! Get four more boxes! This thing is huge!"
In the end, I don't know how many boxes of salt I used, but my panic was utterly unnecessary. The fish was perfect. And it fed four of us for at least three days straight.
This time, I selected a much more reasonably-sized two-pound fish – a striped bass – and made a batch of fish tacos.
The salt crust keeps the fish moist and locks in the flavors of the aromatics. You can use any herbs, citrus, etc., that you like, depending on your taste and your plans for serving.
How much salt? Depends on how big your fish is. I got a couple of boxes for this small-ish two pound fish. Get more than you think you'll need. Just get it. You'll use it. It's salt.
Related recipes: Serve with Roasted Vegetable Salad with Charred Lemon Vinaigrette.
Thanks to Brian Cummings for shooting these photos of my hands in action!
Salt Baked Whole Fish
1 whole fish, such as snapper, striped bass, or branzino. Skin on, gutted, gills removed.
Handful of fresh cilantro
Handful of fresh dill
2 sprigs fresh oregano
1 lemon, sliced
1 lime, sliced
Kosher salt
Egg whites
Notes:
You can use whatever herbs you like, according to your plans for serving. Use the ones I chose, or parsley, rosemary, thyme are all also acceptable.
You can also use whatever citrus you like/have. One kind or a few kinds.
Use two egg whites per cup of kosher salt. I got a couple of boxes for this small-ish two pound fish.
Preheat the oven to 400 degrees.
Remove fins from fish. Or ask your fish monger to do so. They can be bony and difficult.
Stuff the cavity of the fish with the herbs (stems and all) and sliced citrus.
Mix salt and egg whites until the mixture becomes the consistency of wet sand.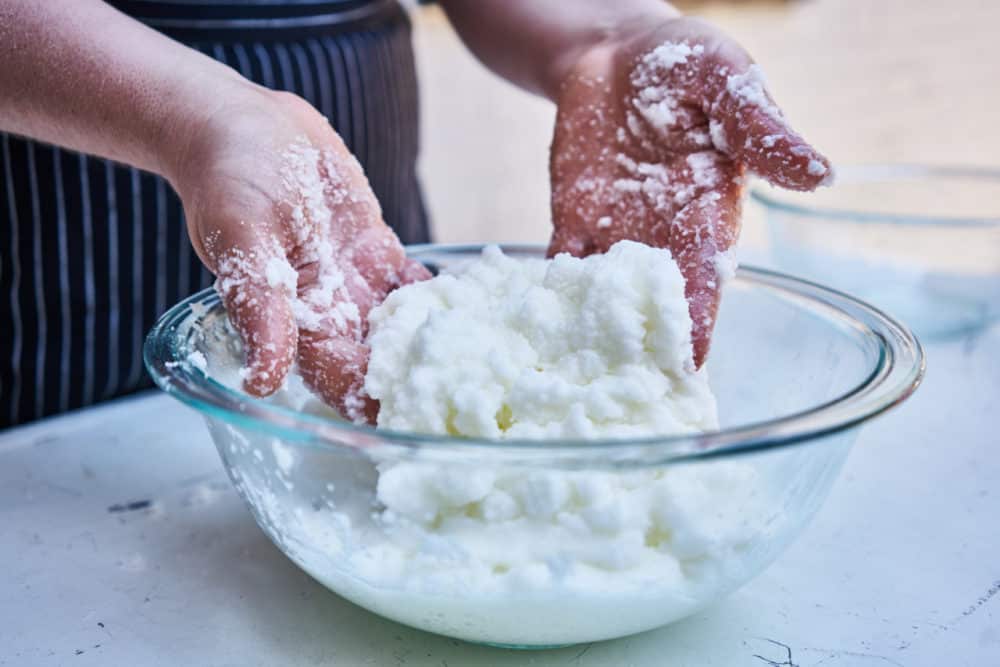 Put a layer of the salt mixture onto the sheet pan. and place the stuffed fish on top.
Smear the rest of the salt mixture over the body of the fish – you can leave the head and tail exposed. It doesn't need to be too thick, but enough so that it forms a coating that isn't see through or cracking.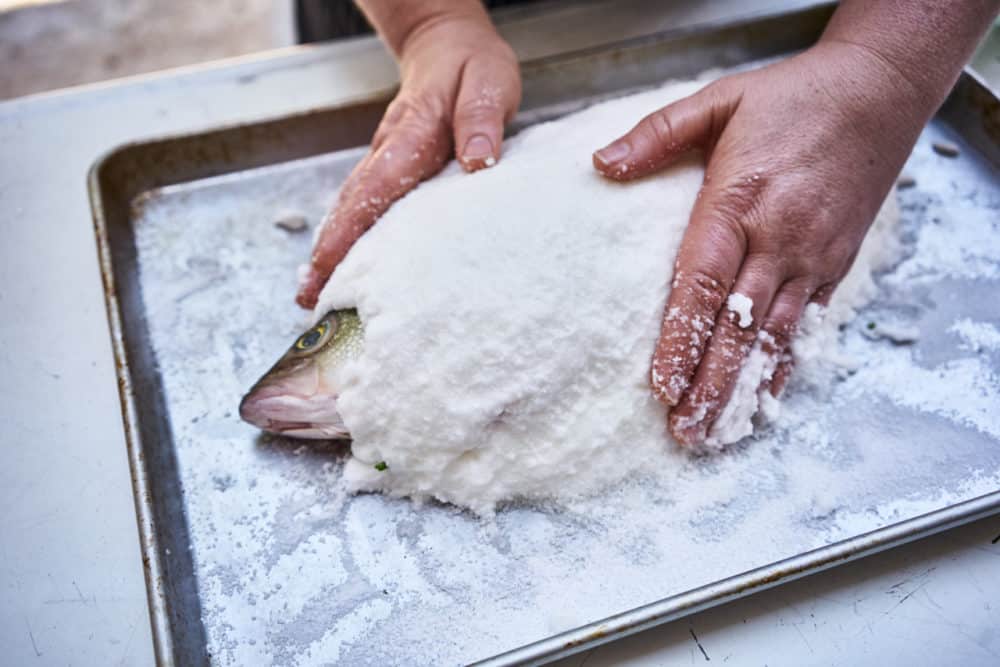 Place the fish in the oven and cook about 8 minutes per pound until the flesh is about 120 to 125 degrees. This two pound fish took a little longer than that – I checked after 16 minutes, then gave it another 5 and checked again. It took a little over 20 minutes in all.
Gently rack open the salt crust – I used a rolling pin. Remember you are just trying to loosen the crust, you don't want to smoosh the fish inside!
Remove crust and peel back the skin of the fish. Lift out the flesh, then carefully remove the backbone, and lift the remaining flesh. Be sure to check for small bones. Don't forget the meat up around the collar of the fish – that's good eatin'! Don't leave it behind.
Serve as an entree or make aromatic fish tacos like I did.