Reims, France is an easy day trip from Paris. The city is the home of numerous champagne houses, a magnificent gothic cathedral, a picturesque Christmas market, and historic WWI and WWII sites. Read about our day exploring this UNESCO World Heritage Site.
This post contains affiliate links. As an Amazon Associate, I earn from qualifying purchases. Read my full disclosure policy here.
We took a big family trip to Paris for my sister-in-law's birthday. Me, my mom, my husband, his mom, his sister, her husband, his mom. Got it? Three moms, four 'kids.'
We always like to find day trips to get out of a big city for a bit, and if that happens to involve the consumption of some high-class alcohol, so much the better. We were off to Reims for the day, the capitol of everything Champagne. After an easy 45-minute train ride, we arrived.
We were taking the mums to Mumm.
Jump to: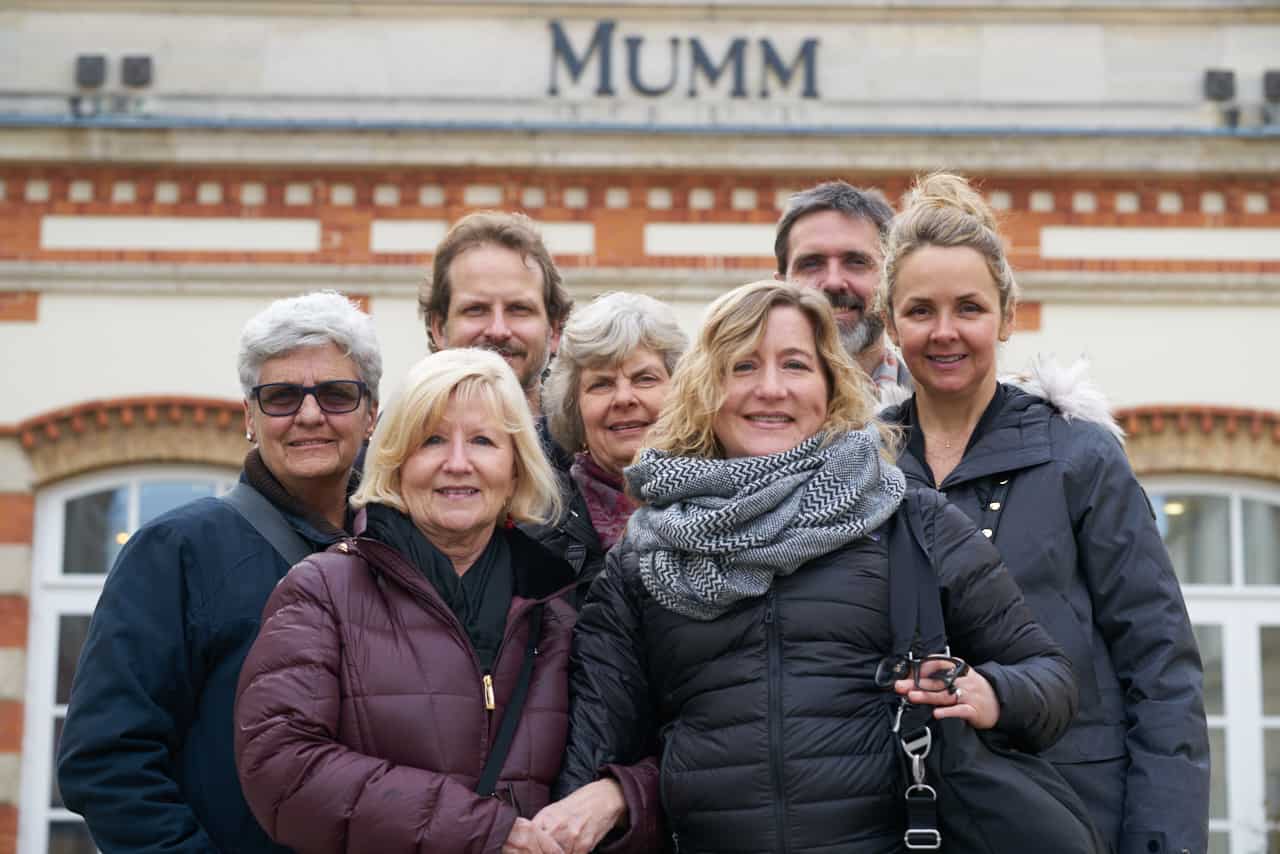 G.H. Mumm Tour
G.H. Mumm is just a 15-minute walk from the train station and offers a cellar tour and tasting for about 28 euro per person. The tour begins as you enter a very high-tech elevator and descend from state-of-the-art modernity into the depths of the house's history in their cellars, nearly 200 years old and 45 feet under ground. Plan your wardrobe carefully, prime conditions for aging Champagne mean that it's quite chilly down there. You'll need a jacket.
Our guide told us about the grape varieties used to make Champagne - Pinot Noir, Chardonnay and Pinot Meunier, and where the grapes are sourced - 25% from Mumm's own vineyards, the remainder from other quality growers. As the tour continued, we passed old wooden barrels and more recent aging tanks into the dimly lit cellars, where bottles of Champagne are aging in the caves. It's all very moody, like winding through secret passages of a castle.
As we passed rows of A-frame racks full of bottles, I had be aware, they are not for show! When we took a tour of a Cava cellar in Spain, all of their bottles in the hallway were empty. These are the real deal. Do not lose your balance. Can you imagine if someone teetered into one of those things and they all hit the floor? Oh dear.
Our tour ended with a tasting, of course! First, we were given small perfume testers and asked to describe what we smelled on each one - vanilla, citrus, etc. These are the scent notes to look for and think about when tasting. We also learned how to properly open a bottle of champagne - twist the bottle, not the cork.
You can buy bottles to take home in the gift shop, but since I travel carry-on only we didn't buy anything. (And I wouldn't trust a full bottle of Champagne in my suitcase even if I did check bags!) You can find Mumm readily in the states and you should definitely pick some up.
A friend who lives in Brussels and goes to Reims a lot recommended Le Crypto for lunch. When we arrived, it was full of locals - always a very good sign. We had to split into two tables. Kids at one table, moms at the other. I don't know that the moms did, but we had the 3-course prix fixe menu with a bottle of Louis Roderer. We're in Champagne - we're having all the Champagne. And I had the biggest hunk of foie gras I've ever seen in my life.
Visit to the Reims Christmas Market
We then made our way through the town center, along a pedestrian-only main drag lined with shops and cafés, culminating at a giant ferris wheel. (They're everywhere, I guess. Everybody wants one.) Our destination was the Christmas market at the Reims Cathedral, the site of the coronation of French kings for nearly 1,000 years. The 2019 Reims Christmas Market is open from November 22 through December 29.
Despite being completely caved in by shelling during WWI, the exterior walls of the church survived and they are incredibly ornate. I've never seen so many statues nestled into so many crooks and crannies. Inside, soaring pointed arches lead you toward intensely colored stained glass windows.
Some of these windows, created by Pierre Simon, date from 1640. During WWI, his descendent, Jacques Simon quickly dismantled as many of the original windows as he could in order to save them from destruction. More recently, Jacques and other artists such as Marc Chagall and Imi Knoeblel have contributed pieces to replace what could not be saved from the devastation.
Outside, the Christmas market surrounds the church on three sides, it's one of the biggest in France. And I have to say, after seeing some others in Paris, I found this one to be very charming, with rustic-looking, chalet-style booths.
And since it's in Reims, the Champagne houses have booths, and even heated tents. We had to stop and warm up with a bottle of Veuve Cliquot Rosé in their cozy little set up - because why wouldn't you - and watch the world go by for a bit. Although we didn't take advantage of the faux-fur throws they provided. A missed opportunity on our part, to be sure. Next time, faux fur!
And to go along with all of the Champagne, lots of booths are selling artisanal food products from the region like charcuterie, foie gras, duck fat, and more.
We found this charming guy working in the Biscuits Billiote booth. He was selling every flavor of sablé cookie imaginable, along with Parisian macarons, coconut macaroons, pâte de fruit and other goodies from their shop, which has been open since 1897. We bought bag fulls for the train ride back to Paris.
Oh, and this happened.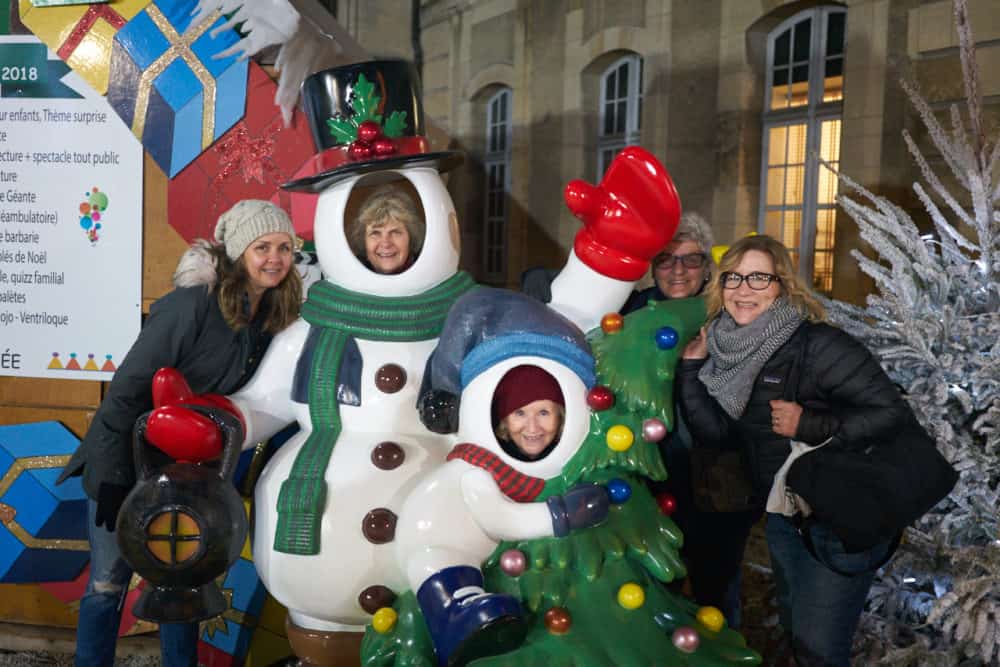 At the end of the day, I wished that I had booked a later train back to Paris. I really could've hung out at the Christmas market for a while longer. With the church as a backdrop, the atmosphere is festive, and seems timeless. Local families were mingling and shopping. There was laughing, talking, and drinking. I wanted a little more.
Reims is completely doable in a day, and if you are a Champagne afficionado, you should stay for two or three day so you can tour more than one house.
Tips for taking a day trip to Reims:
Reims is an easy, 45-minute train ride from Paris on the TGV.
Trains leave from Gare de l'Est, tickets are inexpensive, and they go round-trip all day long. You can buy tickets and reserve your seats in advance via OUI.scnf. They have a handy app that you can download, so tickets are stored there instead of keeping track of paper.
G.H. Mumm is only a 15-minute walk from the train station and you can buy tour tickets online in advance.
Reims Cathedral and the main town center are walkable from the train station via a pedestrian-only main drag - Place Drouet d'Erlon.
The 2019 Reims Christmas Market runs from November 22 through December 29.
Le Crypto (14 Place du Forum) is fancy for lunch without being too fancy, with a three-course prix fixe and very good selection of Champagnes.
Lots of restaurants, bars and cafés line Place Drouet d'Erlon and there is also a ferris wheel if you want to get a view of the city and cathedral from above.
If you'd like to plan a more in-depth Champagne tour experience, the Reims Tourist Office offers information about tours, lodging, and transportation. You can also book many tours and hotels online directly through their website.
Shop the gear I took on this trip
Be sure to wear comfortable shoes when touring the Champagne houses. You'll do a bit of walking in a cold environment. Not the place for flip flops!
This post contains affiliate links. As an Amazon Associate, I earn from qualifying purchases. Read my full disclosure policy here.