Mussels in a white wine sauce, or Moules Marinières, is an easy recipe to prepare at home - and so much more affordable than ordering mussels in a restaurant. Only 5 ingredients, and they cook in less than 10 minutes!
This post contains affiliate links. As an Amazon Associate, I earn from qualifying purchases. Read my full disclosure policy here.
Do you think mussels are fancy? Most people do. Here's a secret: they are also CHEAP, and easy to cook at home. Like $4 a pound cheap. And ready in 10 minutes easy.
Mussels are the ultimate chameleon, adaptable to virtually any cuisine. French, Italian, Thai, whatever good sauce you can think of, it probably tastes good on mussels.
Today, we are making mussels in white wine. Or, in French, the fancy-sounding moules mariniéres, which really just means sailor's mussels - aka humble, poor people food. A little butter, shallots, and white wine, and something magical happens.
Why aren't you making mussels at home all the time? Are you apprehensive about cooking them in your own kitchen? Afraid something bad will happen or you won't do it right? Well, read on my friends. I'm here to help.
How to store, clean, and cook mussels
Take a look at the guidelines below so you'll never fear the fanciness, and start cooking mussels at home. For more resources and information, the Mussel Industry Council has a great website.
How to store mussels in the fridge
Once you get your mussels home from the store, if they are in a plastic bag, remove them and put them in a clean bowl and cover with a damp kitchen towel or paper towel. If they are in a mesh/net bag, you can leave them in there and then place them in the covered bowl in the fridge. They will last for a few days - just make sure the towel stays damp. Never store the mussels in water!
Make sure you drain the bowl of any liquid daily and that the mussels smell fresh like the ocean.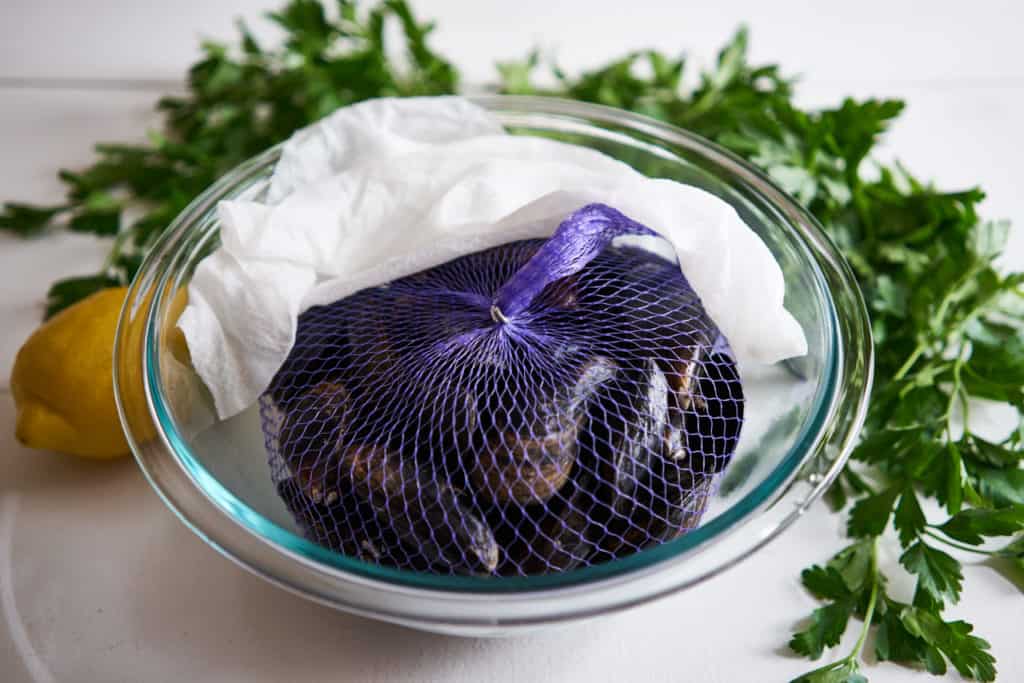 Do you have to soak mussels before cooking?
Before you cook the mussels, fill a bowl with water and let them soak for about 20 minutes or so. They'll start breathing and expel sand. Drain the water and any sand or grit from the bowl.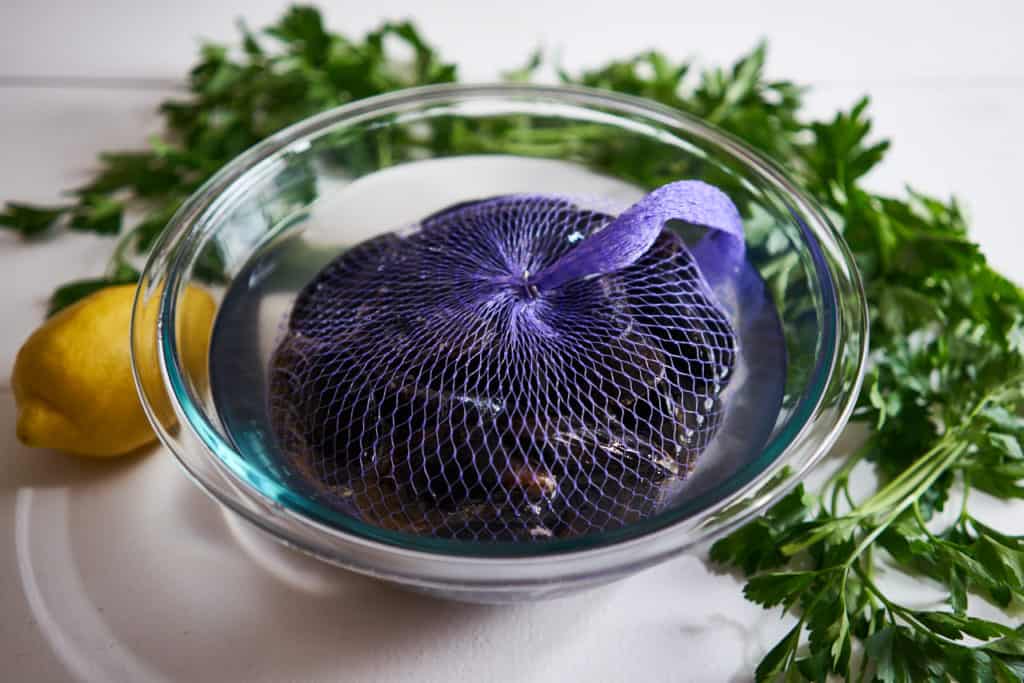 How to wash mussels before cooking
After soaking, rinse each mussel and scrub off any grit from the outside of the shell with a clean brush. In general, the mussels you are buying will be farm-raised, so there shouldn't be too much to deal with here, but this will help to ensure that you don't get any grit in the sauce.
How to remove the beard from a mussel
Since you are probably going to be buying mussels that are rope-grown on farms, they generally won't have beards, but you still might find a couple hanging around that do have one.
To remove the beard from a mussel, pull the fibers out, then pull down toward the bottom, pointy part of the shell until it releases.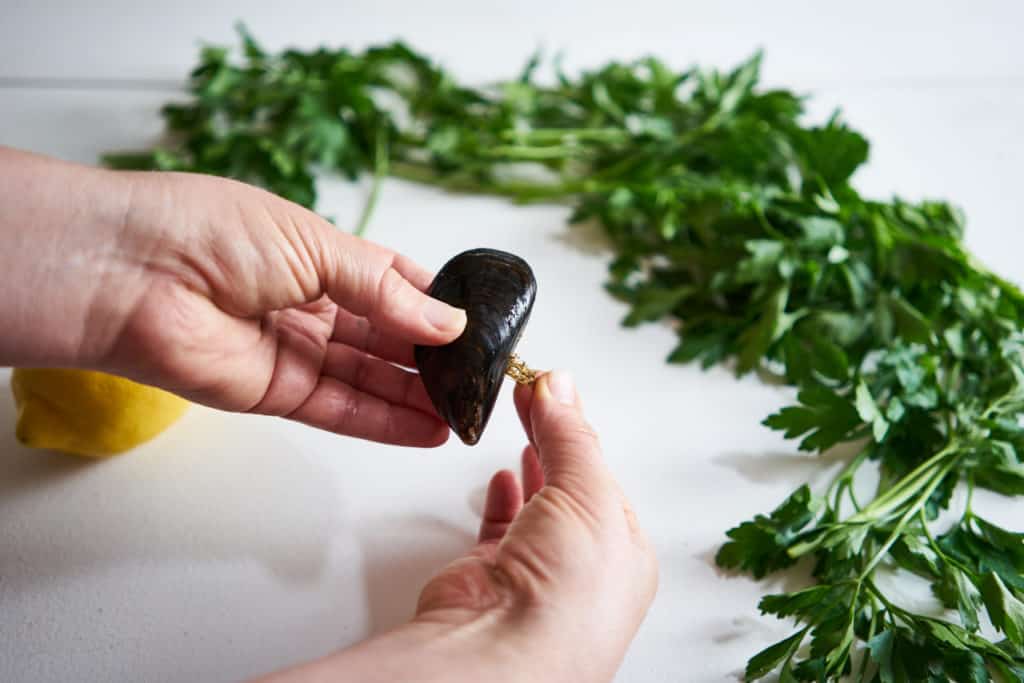 How to know if a mussel is bad - before or after cooking
It's easy to tell if a mussel is good to eat or if it has gone bad. As you are rinsing the mussels look for any that are slightly open. If open, tap with your fingernail or tap agains the sink. If the mussel closes, it's still alive and safe to cook. If it doesn't - it's dead. Throw it out!
After you've cooked the mussels, only eat the ones that have opened fully. If a mussel is closed after cooking, toss it. DO NOT EAT A MUSSEL THAT IS UNOPENED AFTER COOKING!
How many mussels do you need per person?
An average serving of mussels is about one pound per person. Keep in mind, that weight includes the shell. And incidentally - I can usually eat more than a pound myself, so you might want to err on a little more than that.
How to steam mussels in white wine
Let's get down to it, shall we? Let's make fancy-sounding, yet humble, affordable, and accessible moules marinères. It doesn't get more classically French than this, kids.
Put a large pot or wide casserole over medium-high heat. I love my new Lodge enamel cast iron casserole dish. It works perfectly for a recipe like this because it holds the heat evenly.
Thinly slice two shallots. Add a couple of tablespoons of butter to the pan. Once melted, add the shallots and sauté until soft and just beginning to brown.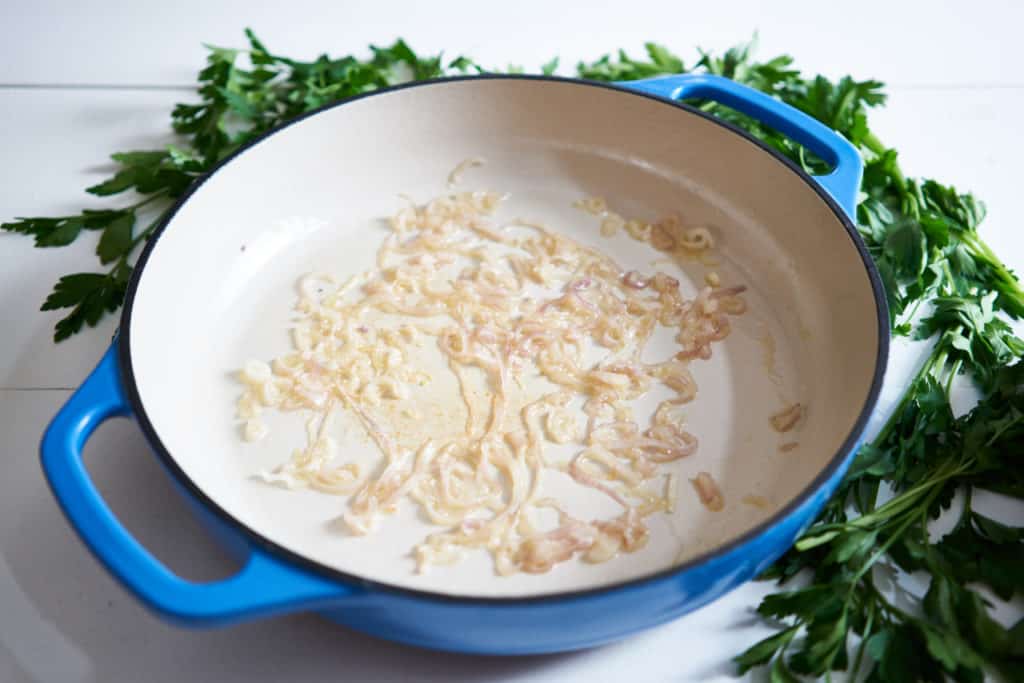 How long does it take to cook mussels?
This is the beautiful part - it only takes about 5 - 7 minutes to steam fresh mussels!
When the shallots are ready, add the wine to the pan and bring to a boil. Reduce heat to medium, add mussels, cover the pot, and allow to steam for 5 - 7 minutes until the mussels are fully opened.
Don't keep opening and closing the pot lid! The mussels need the steam to cook! You can swirl the pot around a little if you like. Or open for one stir if you've got a lot of them in there.
Remove the lid, and another pat of butter, and serve with crusty bread. Fancy dinner is done.
I am a part of the Lodge Cast Iron Blogging Partners Program. This enamel casserole was provided to me free of charge by Lodge Cast Iron. All opinions are my own.
Large stock pot with lid or wide, deep skillet with lid
Ingredients
4

lbs

Mussels

fresh, in the shell

2

shallots

thinly sliced

4

tbsp

butter

divided

2

cups

dry white wine

fresh flat-leaf parsley

roughly chopped

kosher salt

to taste
Instructions
Soak mussels in cool water for about 20 minutes to remove sand and grit. Drain water.

Under running water, wash each mussel and gently scrub with a nylon brush, removing debris, barnacles, etc. Pull out any beards.

Make sure all mussels are completely closed. If any are slightly open, tap them with your fingernail or against the side of the sink. If they close up, they are good to go. If they remain open, they are dead - discard them.

Place stock pot or wide skillet over medium heat. Add 2 tbsp butter to the pot. Once melted, add shallots and sauté until soft and just beginning to brown.

Add white wine to the pan and bring to a boil. Reduce heat to medium, add a pinch of salt, then add all mussels. Cover the pot and allow to steam for 5 minutes, shaking the pan occasionally.

Check after 5 minutes to see if all mussels are open. If not, return lid to the pot and steam for 2 more minutes.

Remove lid, add 2 tbsp butter, swirl and stir. Remove any mussels that have not opened. DO NOT EAT A MUSSEL THAT DIDN'T OPEN!! Transfer mussels to serving bowls, spoon sauce over them, top with chopped parsley. Serve with crusty bread.
Notes
DO NOT EAT MUSSELS THAT DON'T OPEN!! Discard any mussels that are unopened after cooking. I apply this rule to mussels that are only slightly open as well. The shells should be very open so the mussel is easy to remove. 
Nutrition Facts
Mussels in White Wine (Moules Marinières)
Amount Per Serving
Calories 408
Calories from Fat 153
% Daily Value*
Fat 17g26%
Cholesterol 95mg32%
Sodium 770mg33%
Potassium 867mg25%
Carbohydrates 14g5%
Protein 28g56%
Vitamin A 725IU15%
Vitamin C 19.5mg24%
Calcium 79mg8%
Iron 9.6mg53%
* Percent Daily Values are based on a 2000 calorie diet.
This post contains affiliate links. As an Amazon Associate, I earn from qualifying purchases. Read my full disclosure policy here.