Come along on a food tour in Paris through the Marais neighborhood! We'll visit a bakery with some of the best croissants in Paris, a chocolaterie that does so much more than make chocolate, get some charcuterie, taste some very special cheeses, and pair all of it with wine and cameraderie. Along the way we learned a lot about French food and the attention to detail that makes it so good. Here's what we did on our food tour with Paris by Mouth!
This post contains affiliate links. As an Amazon Associate, I earn from qualifying purchases. Read my full disclosure policy here.
I have a confession: I went to Paris thinking I knew a few things about French food. In the general sense. On a surface level. I've made some of the mother sauces. I made croissants once just to say I did. I've read Julia Child's My Life in France. A few times. But I didn't really know. The Brie de Meaux! I didn't know. (We'll get to that a bit later...)
When I was planning our trip, I did know that there was too much in Paris to try to taste all on our own and that we needed to book a food tour. Paris by Mouth gives food tours of several different neighborhoods. It was hard to choose, but I went with the Marais food tour.
Paris by Mouth food tours max out at about 8 people, and they last about 3 hours. This allowed us to really learn from our guide, and to get to know each other as well. You visit several places, learning about them and getting samples, and the guide purchases more things along the way that you will sit down and taste together, paired with wines, during the last part of the tour.
One of the things we learned about was the French system of appellation d'origine contrôlée or AOC. An AOC designates the geography of where something was produced, and includes strict standards. There are AOC's for wine, cheese and other products. It's kind of like what you think about when you say "terroir". (If you ever say "terroir"...) It's a very serious thing regulated by the government. When you purchase something from a certain AOC, you should always be able to expect a certain flavor profile and a standard of quality.
So, do you know the difference between "boulangerie" and "boulanger"? Neither did I. Did you think they both meant bakery in French? Well, yes and no. "Boulangerie" means they make the the dough and bake it on the premises. "Boulanger" means the dough is made somewhere else, and just baked there. This same suffix goes for patisserie vs patissier, chocolaterie vs chocolatier, etc. And you might not think it matters, but it's a big deal. A very big deal.
Paris Food Tour Stop #1: Baguettes and Croissants at Tout Autour du Pain
We started at Tout Autour du Pain, a boulangerie (see what I did there?) that is so teeny tiny, you can blink and miss it. All 8 of us could barely even fit in there. The owner/baker is Benjamin Turquier, his baguettes have been among the top ten three times in the city's annual "best baguette" contest and his croissants have been voted the best in Paris by its professional baker's association.
We tasted those baguettes and croissants along with some chouquettes. And Turquier also likes to have a little fun with things, and put a spin on tradition. French children always have a sweet after school snack or "goûter", a hunk of bread with a chunk of chocolate stuffed in the middle is a common one. He came up with "Vannetais", a white chocolate chip bread. So the chocolate is already in there, for ease of consumption by hungry children. Or adults.
One thing our guide Jennifer shared for all of you gluten-free peeps - French flour has less gluten than US flour. So some people with gluten sensitivities can enjoy French pastries, bread, etc., without the same discomfort they experience in the U.S. My husband - who is gluten-intolerant but does not have celiac disease - cautiously gave it a shot. We found that he could sample bread and pastries in moderation without any adverse effects. But he did not go hog wild. So take in all of the above information and decide what's best for you, if you go. (There are also a lot of gluten-free places in Paris now, so you could try those instead.)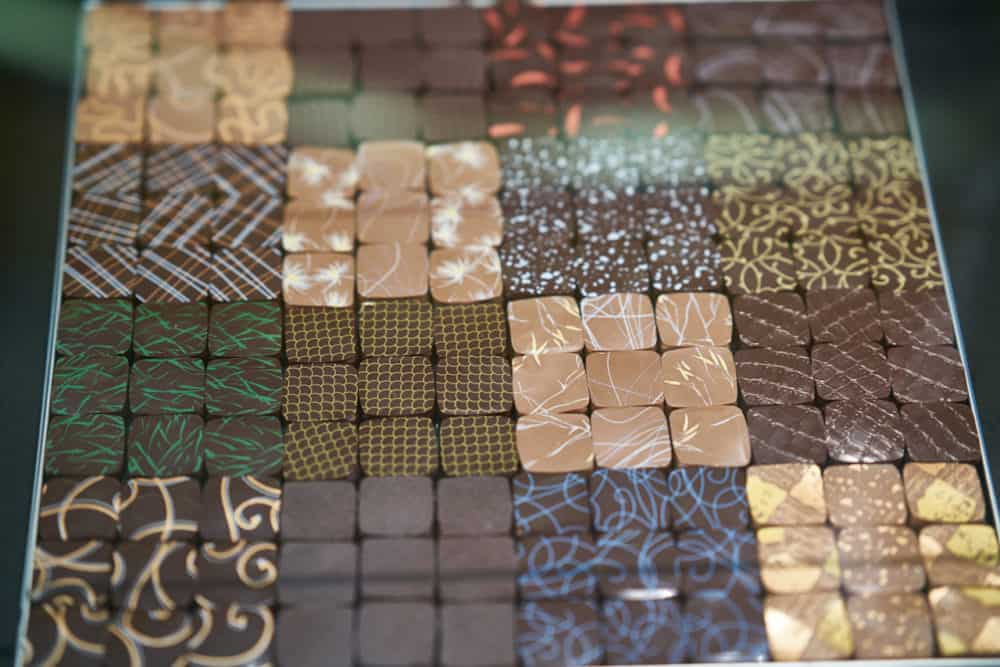 Paris Food Tour Stop #2: Jaques Genin Chocolaterie
After the bakery we headed to Jaques Genin for chocolates, caramels, and pâtes de fruits. I had read about Jaques in Lindsey Tramuta's book, The New Paris. The chocolate is amazing, yes, but he makes some of the best caramels and pâtes de fruit in the world. Pâtes de fruit is not really a thing in the States, but in France, they are serious about these "fruit jellies." And in Genin's hands, they rise to a new level.
Fruit jelly might make you think of jelly beans. But you would be wrong. They are not sticky, they are not chewy. It's like the essence of the fruit is amplified, and then it melts in your mouth. Genin makes them in traditional flavors and all kinds of wild ones like fennel and beet. Yes, I had the fennel. I'm the only one in my family that likes it, so when I see a chance, I take it.
And, no, I don't have a picture of them. I guess I was too busy enjoying them to realize it. But the beautiful chocolates are shown above!
Paris Food Tour Stop #3: Jouannault Cheese Shop
Then, cheese of course! We are in France, after all. Jouannault Cheese Shop is tiny, and packed floor to ceiling with cheese. This is a shop that not only sells cheese, they also age cheeses themselves in the cave below their store. Which isn't an actual cave. A cave is what they call a basement in Paris. But thinking about aging cheese in a cave is pretty cool. (Ha!) This shop is a family business, passed down from father to daughter, and they have real relationships with the cheese makers. They had just gotten back from southern France where they picked up some cheeses directly from the producers to age in their cave.
This is a very special shop, and our guide Jennifer should know, she's trying to taste every cheese in France, and so far, she's tasted 224. She's even got a blog about it. I don't know how many more she has to go, but let's just say I think she knows what she's talking about.
She bought us one cheese to try that wasn't on her original shopping list. Availability is limited to certain times of the year, it had just come in, and she was very excited. After more than 200 cheeses, if she gets excited about something, it's probably worth getting excited about. It was a Tomme de Jura. The opportunity to try this cheese was too special to pass up. This extra sample wasn't included in the price of the tour, but she didn't care, she bought it anyway. That, my friends, is dedication to your customers.
Paris Food Tour Stop #4: Caractére de Cochon for Charcuterie
Next was charcuterie at Caractère de cochon, devoted to all things ham, a ham emporium, if you will. They pack every kind of ham from France - and beyond - and as much cured meat as possible into about 10 square feet. Floor to ceiling, wall to wall. Wham bam, thank you ham. It was a heavenly place to be. Apparently, there wasn't a shop that specialized in ham in all of Paris until this one came along.
We sampled a couple of things in the shop and Jennifer purchased lots of things for us to try: 12 month old Italian "Drunken pig" cured ham, cured salami from the Auvergne, pork pâté in hay, (yes, they wrap it up in actual hay). Two of the most unique things she grabbed were a truffle studded "Snowball", which is made of sausages cooked with truffles, then rolled into a ball and coated with parmesan, and caciospinata, which is spicy soppresata wrapped in provolone cheese.
Paris Food Tour Stop #5: Popelini for Cream Puffs
Now, a sweet treat is needed, don't you think? Popelini makes little cream puffs in a slew of different flavors. They are part of a new wave of Parisian specialty shops that just do one thing and do it perfectly. Shops that only make eclairs, or only make sablé cookies, etc. I read about Popelini and lots of other producers in The New Paris, too, so it was fun to have a little inside scoop on this place when we arrived. We got to pick which flavor we wanted, and of course, I chose the rose cream with raspberry. Rose cream is my favorite pastry flavor ever and I do not understand why it's not a thing in the States. It's like you're eating a flower in the best possible way that you can imagine.
Paris Food Tour Stop #6: La Cave de Turenne for Wine Tasting
With all of these goodies in tow, we headed to La Cave de Turenne, a wine cave. (Here, the word cave does not mean basement - or cave - it means shop, where you can sometimes also hang out and drink what you purchase.) We had a seat at a long table together, Jennifer ordered up a few natural wines, and we were ready to taste.
Two more things I didn't know - how to cut Brie. NEVER cut the point off! Slice it on an angle alternating sides as you go. Respect the cheese! And - the Brie that we get here in the States is not really Brie. Real Brie de Meaux is made with unpasteurized raw milk. It tastes absolutely and completely different. And it is absolutely and completely fabulous. And it's absolutely and completely illegal to import into the U.S.
Jennifer paired the wines and cheeses so that each would bring out the best in the other. It was truly amazing. It brought to light the care and attention that the French pay to details like that. We just buy a bottle of red, a bottle of white, and whatever cheese is on sale and call it a day. But when you take the time to choose products that complement one another, it's like a whole new world of flavor opens up. And you savor it, you notice it, you appreciate it.
I learned so much, and there is so much more to learn. This was an in-depth tour that showcased the passion and commitment to quality of the French producers and purveyors. These are the things that get me excited about food! Where it comes from, everything that goes into making it, and the joy of experiencing it and sharing it with other like-minded souls.
Since there was so much to taste and remember, thankfully, Jennifer sent us a list of everything we tasted in a follow-up email. I've shared all the details below.
Tips for Paris Food Tours with Paris by Mouth:
Paris by Mouth food tours max out at about 8 people so they sell out quickly. I booked ours online in advance. Their booking system is easy to use, and shows how many spots are left on each tour time, so you know for sure ahead of time if there is room for everyone in your group.
Communication was easy - the guide reached out to us ahead of the tour with instructions about the meeting place and her contact information.
Don't be late!! There is so much to see and do. Be kind and don't keep the others in your group from missing out - and they will leave without you...
Their website has a wealth of information about Paris restaurants in every neighborhood and at every price point. They also have bakeries, chocolateries, etc., listed. It is a great resource for planning out the rest of your eating during your visit!
If you're heading to Paris, or any European destination soon, see this post filled with tips and gear to help you travel light: Packing Light for Europe: How to Pack Carry-On Only!
Here are the wines and cheeses we tasted on our Paris food tour:
Wines:
2017 Cheverny AOC, Domaine des Huards "Pure" (Sauvignon Blanc and Chardonnay from the Loire Valley)
2017 Beaujolais Villages, Mathilde et Stephen Durieu, "Lou. Y Es-Tu?" (100% Gamay from Beaujolais)
2016 Faugères AOC, Domaine Les Serrals, "Aquilae" (Mourvèdre and Syrah from the Languedoc-Roussillon
Cheeses:
Rouelle du Tarn (goat, Midi-Pyrénées, 2-4 weeks) - a donut shaped cheese with a hole in the center. It's mild with a milky flavor and hazelnut note.
Rocamadour AOC (goat, Midi-Pyrénées in the south, 1-3 weeks) - tender and creamy pâte, it tastes mild and milky with a nutty aftertaste.
Brie de Meaux AOC (cow, Ile-de-France, 6-8 weeks) - can taste of mushrooms, earth, wet leaves, mushrooms sauteed in butter, mushroom soup made with beef stock, or oysters. Hand-ladled using a perforated ladle (dates back to 12th century) that allows the curds to be transported to the mold unbroken in order to achieve the smooth, voluptuous custard-like interior.
Salers Tradition AOC (cow, Auvergne, 12 months) - the same region as Cantal, but made exclusively from Salers breed cows that are grass-fed (only) between April 15 and November 15. Produced exclusively in férmier (farmhouse) version.
Tomme du Jura (cow, Franche-Comté, at least 3 months) - supple and rich in texture, with hints of caramel, butter and fruit
Trappe d'Échourgnac (cow, Dordogne, 1-2 months) - produced by nuns at the Abbaye d'Échourgnac, the rind of this supple cheese is washed repeatedly in walnut liqueur, imparting a smoky, nutty flavor. Also called Timanoix.
This post contains affiliate links. As an Amazon Associate, I earn from qualifying purchases. Read my full disclosure policy here.