This bagel sandwich recipe is perfect if you're looking for Thanksgiving leftover ideas – or anytime! Smoked cheese, spicy-sweet mustard, and chewy pumpernickel make for a different take on a turkey sandwich.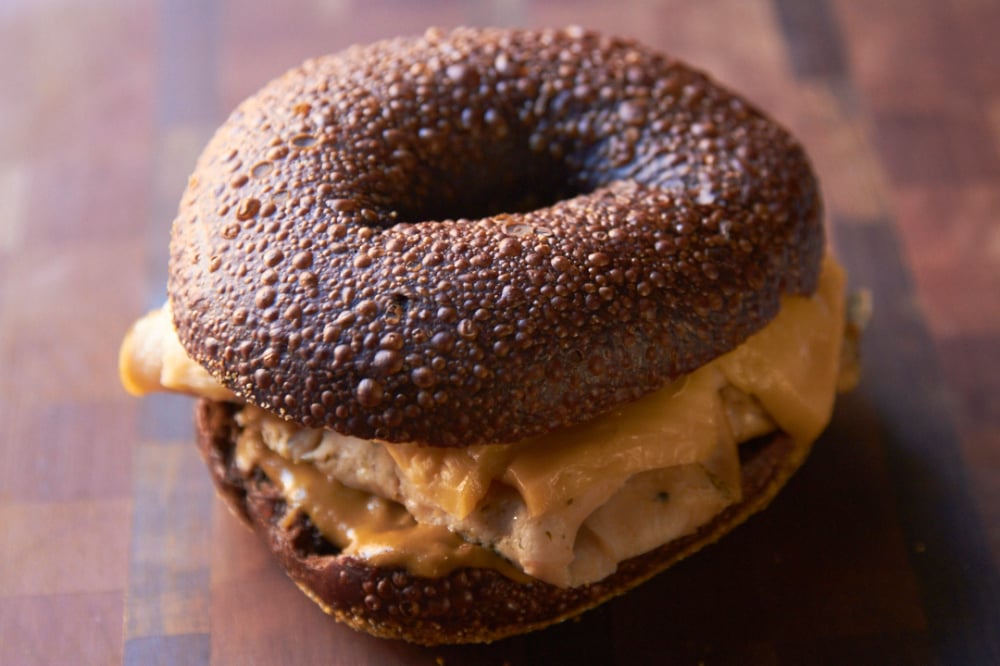 So I put myself through college by working in the deli/seafood department at a local grocery store. I sliced head cheese, made coleslaw, and steamed lobsters for about four years at several different stores across the greater metropolitan area. As you can imagine, I became quite the sandwich maker, with a deli-full of ingredients at my fingertips. But the sandwiches weren't free for employees, and although the choices were plentiful, they were not exotic, so I got pretty good at making the most of the staples offered at the average American supermarket deli. This turkey bagel sandwich is one of my favorite creations from those days.
If you're looking for leftover turkey ideas after Thanksgiving, this easy bagel sandwich recipe is for you. After all, you just cooked your butt off for the last three days. By the time Friday rolls around, the last thing you want to do is work for it. So make it easy – just put the sandwich in your mouth!
You're gonna have bagels around to feed all those houseguests for breakfast, right? So get some pumpernickel. This oft-overlooked flavor is one of my favorites for sandwiches, and has less calories than a plain or wheat bagel. (If you even care… we are talking about Thanksgiving here.) You may not be likely to buy a whole loaf of the stuff to keep around, but you can take a chance on some single servings.
And now you're gonna say, "What is hot, sweet mustard?" And I'm gonna say, "It's necessary." We had it ready-made in the deli, but you can make it at home with two ingredients and you simply can't substitute. It's the key to the flavors in this sandwich. I can't explain it. Just eat it.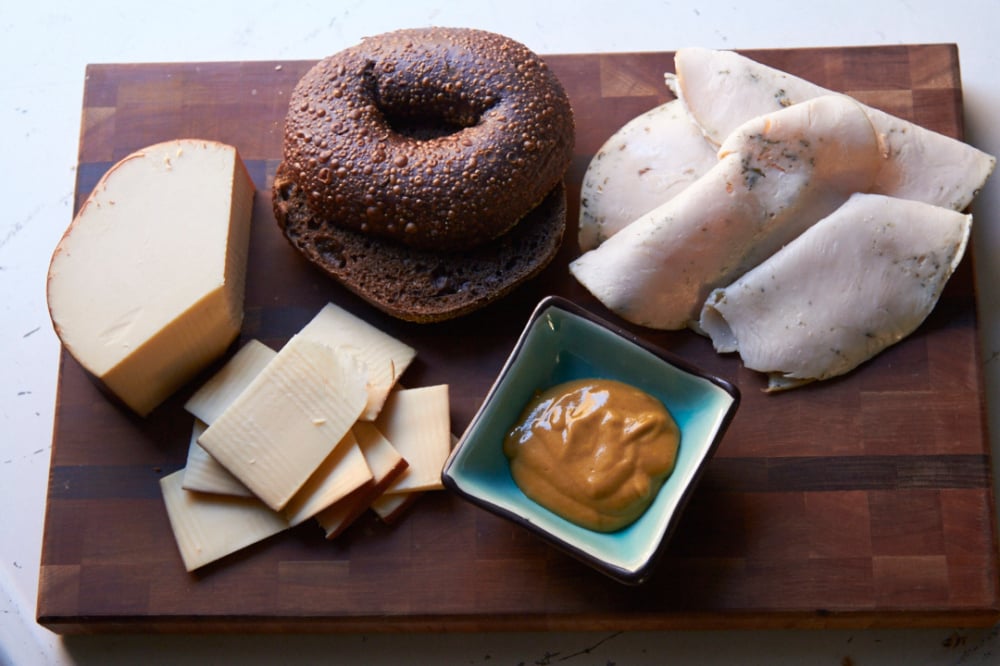 Turkey Bagel Sandwich with Hot, Sweet Mustard
One pumpernickel bagel, sliced in half
Sliced turkey
Smoked Gouda cheese (smoked cheddar also works)
Hot, Sweet Mustard – 1 tbsp very zesty Dijon mustard, combined with 1/2 tsp honey
Pile turkey high, top with cheese, and microwave it until the cheese melts. Toast bagel, spread with mustard, top with turkey and cheese.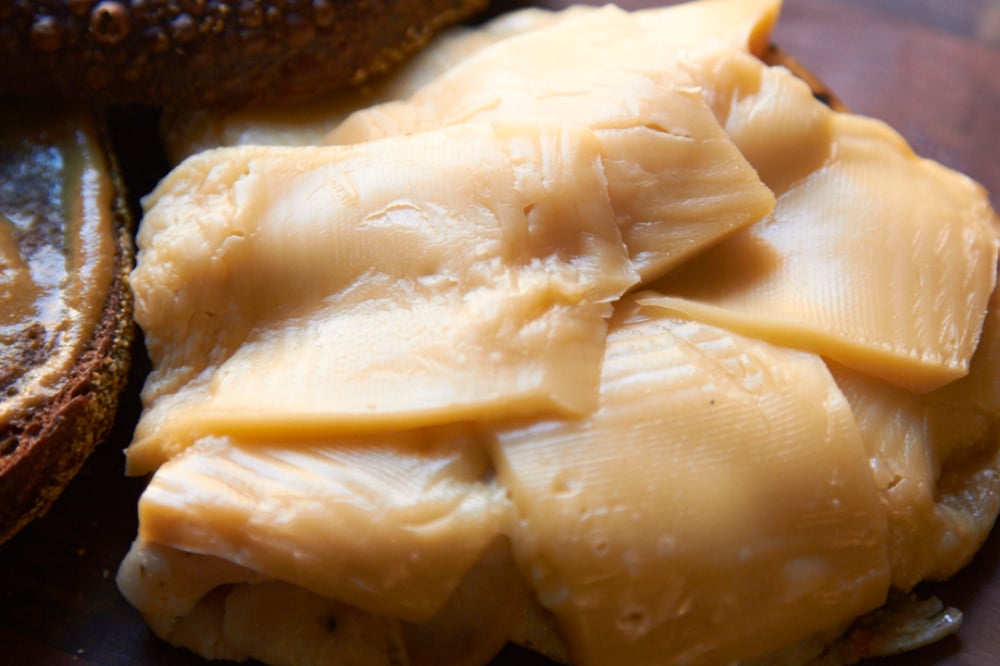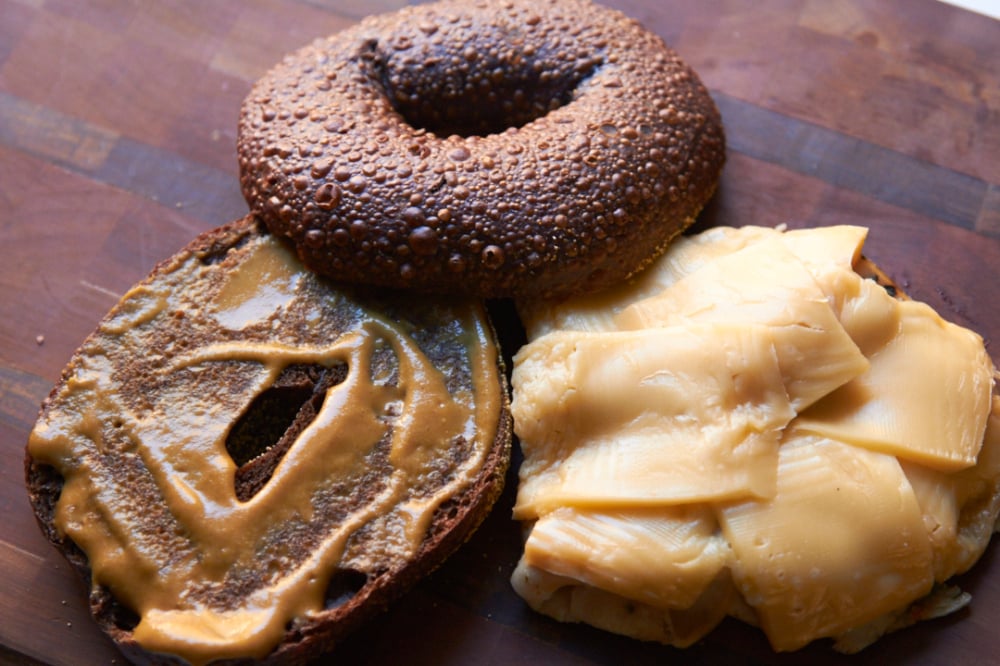 Ingredients
Turkey Bagel Sandwich
1

pumpernickel bagel

sliced in half and toasted

6

oz

sliced turkey

3

slices

smoked gouda cheese
Sweet Hot Mustard
1

tbsp

Dijon mustard

very zesty variety

1/2

tsp

honey
Instructions
Slice bagel in half and toast

Pile turkey high on a plate and top with cheese. Microwave until turkey is hot and cheese melts.

Combine mustard and honey in a small bowl.

Spread mustard mixture onto bagel, top with warm turkey and cheese and enjoy!