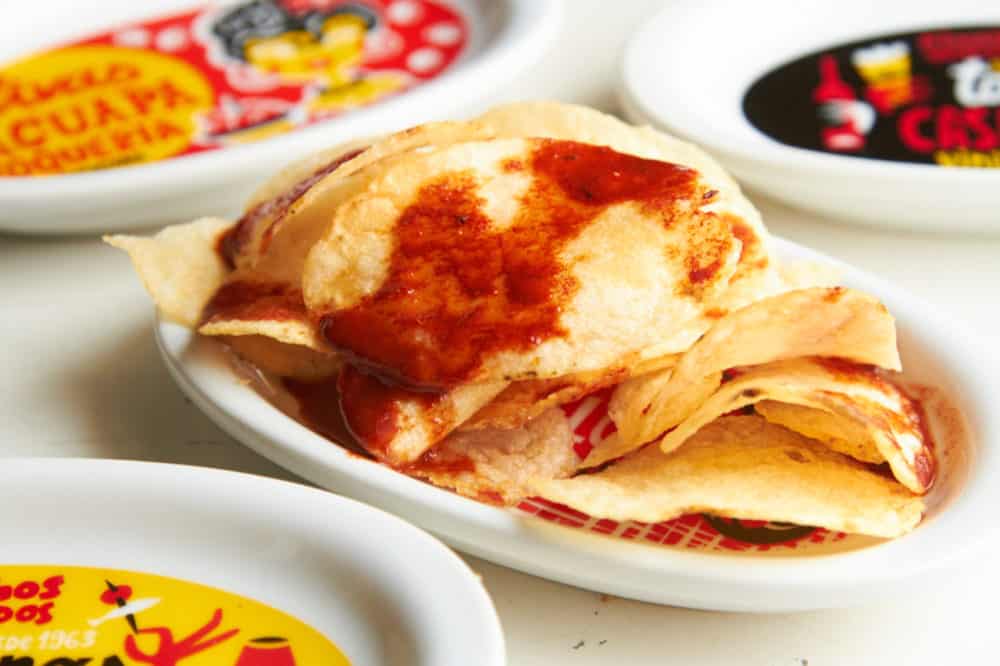 In Barcelona a couple of years ago we had dinner at Bodega 1900, one of Albert Adrià's many restaurants there. The concept takes you back 100 years, to a neighborhood vermutería, serving up small dishes (including the famous elBulli "olives") and house-made vermouth amid white tiled walls and mosaic floors, with Iberico ham hanging from the rafters. One of the first dishes they brought to the table was this one. The menu says "potato chips with vermouth sauce" but there is no vermouth in it. It's tangy and smoky, goes perfectly with the saltiness of the chips and sweetness of red vermouth. The flavor of the paprika was a revelation. I just couldn't get over it. And thankfully, they sold bottles of it to go. So I came back with my small-enough-that-I'm-not-worried-about-it-exploding-on-my-clothes-in-my-checked-baggage bottle, determined to recreate it.
When we first got home I yelled at my husband more than once for dousing it too liberally onto plates of chips. "You can't use all of that up before I learn how to make it!" But, what was it CALLED? I really struggled with the title of this post, because I literally do not know what this stuff is. I just know it's delicious. The bottle simply says 'aliño para apertivo', which means a seasoning or dressing for appetizers. Soo… dressing. I can't call it dressing… And I can't look up a recipe with that general terminology.
So, thank you, ingredient label – it's literally just red wine vinegar, smoked sweet and hot paprika and black pepper. I just fiddled around with the ratios, comparing my mixture to the taste of the bottle I bought. The thing is, you have to use the good Spanish paprika. The average stuff in the spice aisle just will not do.
I don't know. Maybe everyone doesn't freak out over the taste of paprika like I do. But who doesn't like vinegar on chips? This stuff is my new favorite party trick.
Related recipes: Looking for more snacks? Try these spiced nuts.
Paprika Sauce 
1 tbsp sweet paprika
1 tpsp hot paprika
5 tbsp red wine vinegar
cracked black pepper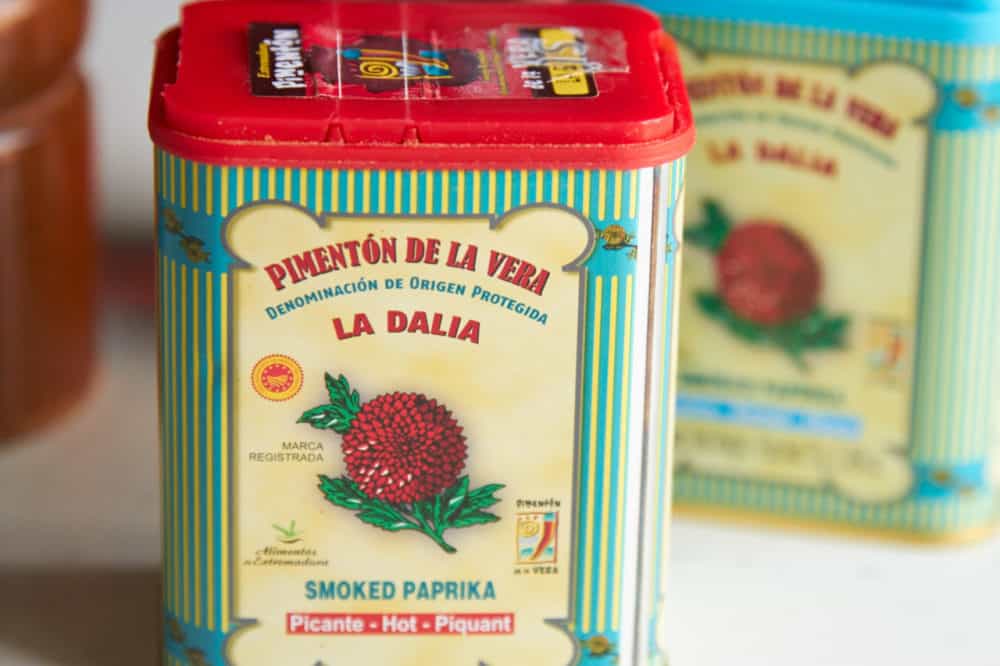 Add paprika to a small mixing bowl.
Add red wine vinegar and whisk gently to combine.
Add a few turns of cracked black pepper.
Pour into squeeze bottle.
Drizzle over classic potato chips and serve with vermouth over ice.
Paprika Sauce with Potato Chips
Ingredients
1

tbsp

smoked hot Spanish paprika

1

tbsp

smoked sweet Spanish paprika

5

tbsp

red wine vinegar

cracked black pepper
Instructions
Put all ingredients into the bowl and stir together. Drizzle over potato chips and serve!