Pesto doesn't have to be just basil! This kale pesto will add extra healthy greens and lots of flavor to any dish from pasta to soups.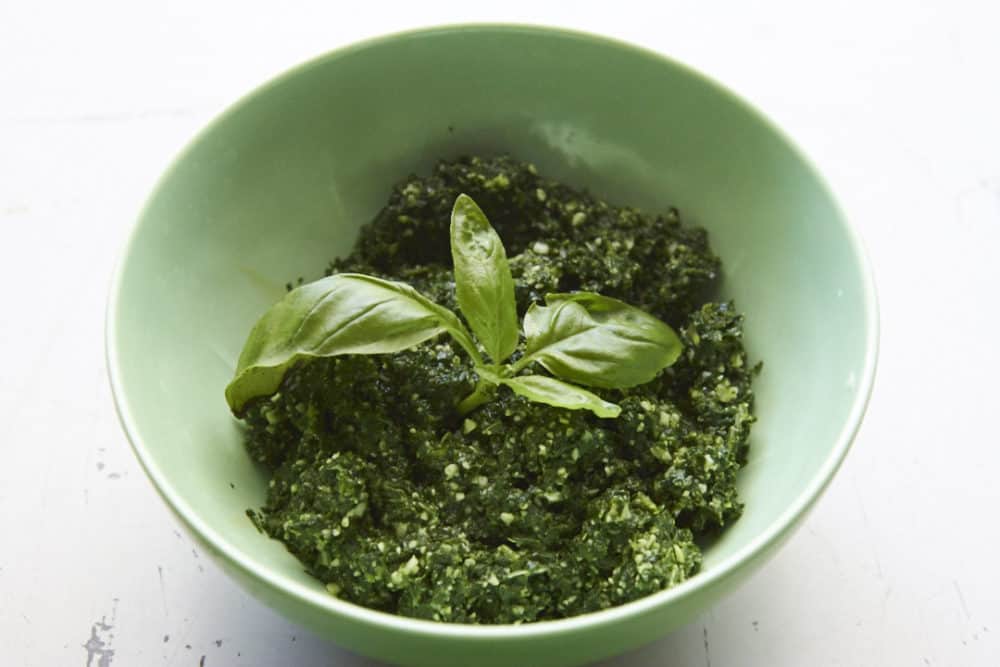 The garden is going crazy! We bought some small kale plants at the local nursery in the spring and got more than we bargained for. Some of the kale we recognized. Your garden variety kale, the kind that everyone is using in their salads. The other plants surprised us. BIG leaves, sort of silver-green, thick stems. We were a little afraid to eat it at first, was it really kale? Are we gonna die if we eat it?
But a google image search told us we were growing Siberian kale. Its leaves are truly lovely, softer than most varieties I usually see in the market, with a slightly peppery taste like arugula. So there I was, up to my elbows in all this beautiful kale, knowing only a fraction of it could be consumed in the foreseeable future. Throwing food out is bad, but throwing food out that you actually took the time to grow is heartbreaking. So I found myself making kale pesto (I know, I just made pesto, whatever, I like it) to freeze for a dreary day later in the year when that burst of green will be a welcome sight.
To be honest, I never use a recipe when I make pesto. When I was a musician, I played guitar by ear, and now I often cook – by ear? You know what I mean. I just figure it out. Other people agree that pesto is a personal and variable thing, you can just use what you have and what you like and make it your own.
So I took several cups of chopped kale and sautéed it just until it wilted. I squeezed out the remaining water and threw it in the mini food processor with a clove of garlic, a handful of fresh basil, a few pine nuts (I just happened to have these, I use walnuts in pesto a lot, they are cheaper and just as luscious) some parmesan and some olive oil. Zip it and you're done. I popped it into a zip top bag and put it in the freezer.
I've read that you are not supposed to freeze pesto with the cheese in it. I talked to a new chef friend about this while on vacation in Mexico – more on that in the next post, stay tuned! – and he said it really doesn't make that much difference. It can change the texture of the cheese a bit but it shouldn't really be noticeable.
Kale pesto is great when you want to amp up the greens in a dish without adding more volume to it. You can put it on top of soups, use it in pasta dishes, or any other place that you would use regular pesto.
Get your green on and save it for a rainy day.
Related recipes: You could use this kale pesto in my recipe for Gnocchi with Peas and Pesto
This post contains affiliate links. Read my full disclosure policy here. 
Kale Pesto:
4-5 cups kale, roughly chopped
1-2 garlic cloves
Handful of basil leaves
1/4 cup (ish) parmigiano reggiano cheese
pinch of kosher salt
One glug of olive oil – enough to hold together without being too liquid-y
Quickly sautée the kale, wrap in towel and wring out water. Or not, you can make this with raw kale, too. Combine with other ingredients in food processor.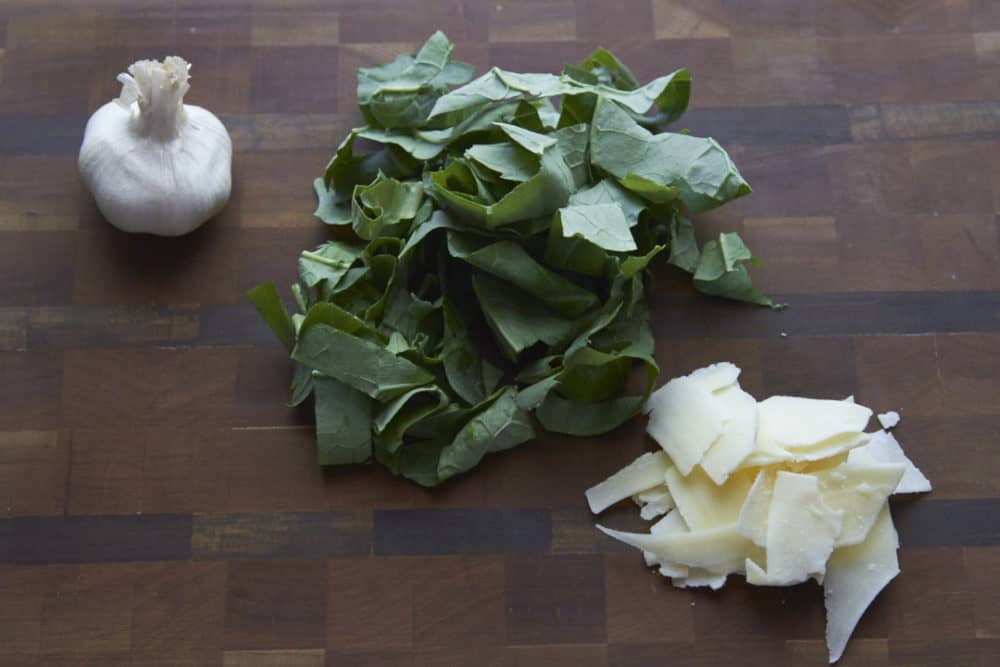 Ingredients
4-5

cups

kale

roughly chopped

handful

fresh basil

1-2

cloves

garlic

depending upon your taste

1/4

cup

Parmesan cheese

olive oil

see instructions for amount

pinch

kosher salt
Instructions
Quickly sautée the kale, wrap in towel and wring out water. (You can make this with raw kale, too.) Combine with other ingredients in food processor. Drizzle olive oil and then process until smooth. Check texture, if more oil is needed to hold pesto together, add a bit more and process again.
Notes
Kale pesto can be frozen for up to 6 months. Freeze in ice cube trays for small servings that you can easily pop into sauces or soups.