Pesto doesn't have to be made from just basil! This easy kale pesto will add extra healthy greens and lots of flavor to any dish from pasta to soups.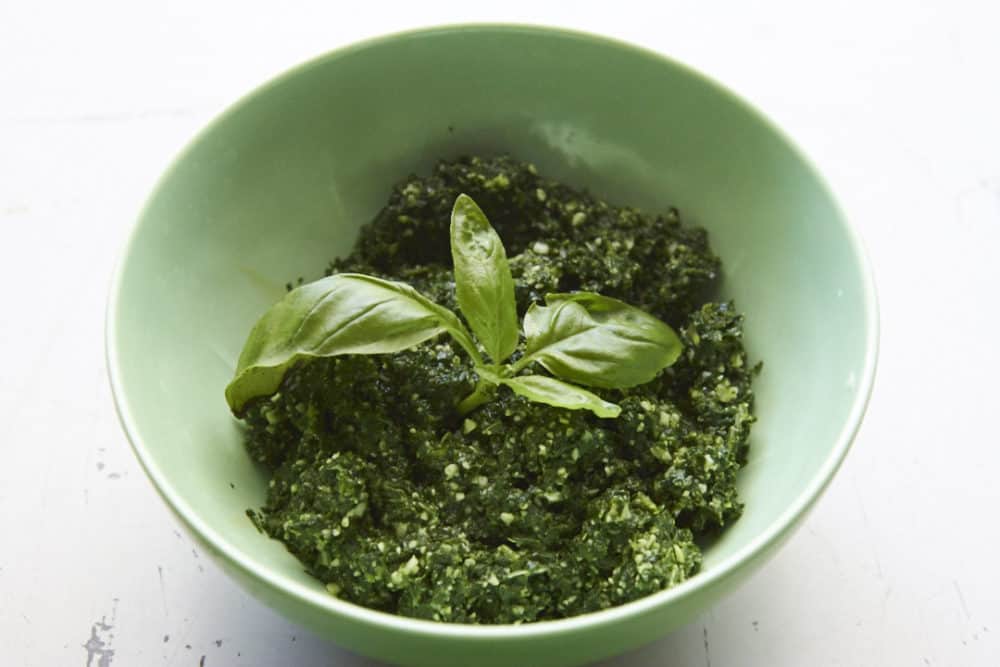 This post contains affiliate links. As an Amazon Associate, I earn from qualifying purchases. Read my full disclosure policy here.
We found ourselves with a TON of kale in the garden. Up to our elbows. So what to do with it? Make pesto of course! Yes, you can make pesto with kale!
And so easy to make! Just zip the ingredients in the food processor and you're done. It's ready in 15 minutes and will keep in your refrigerator for a while, so make a big batch because everyone will love it!
Try this kale pesto recipe when you want to amp up the greens in a dish like Pesto Pasta without adding more volume to it.
Can't get enough pesto? Try my classic basil pesto or sage pesto recipes!
Jump to: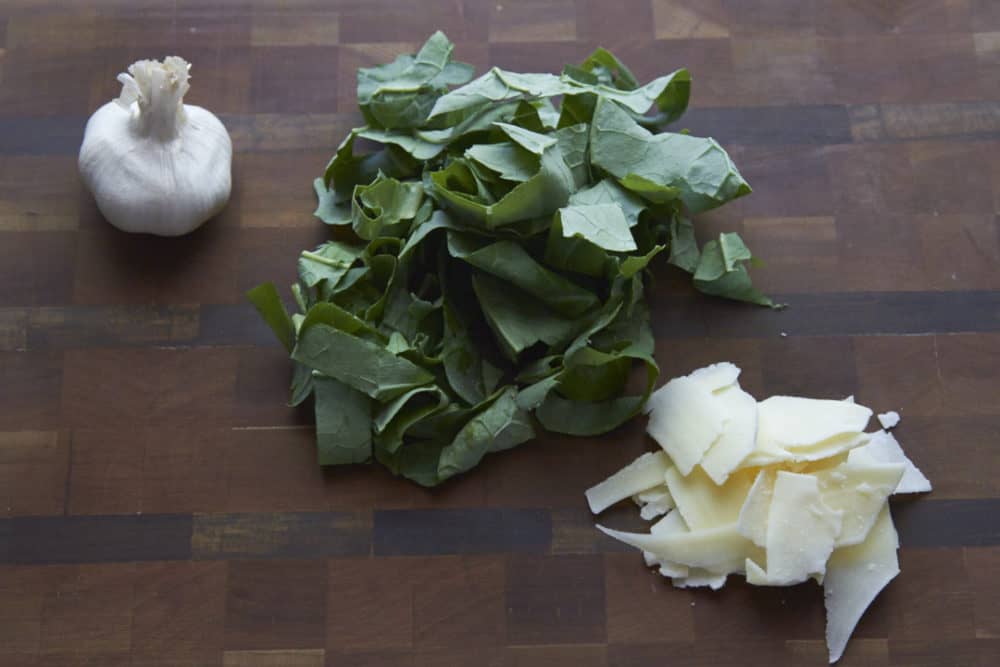 Kale pesto ingredients and variations
My kale pesto recipe only has 7 ingredients, two of them are pantry staples. You don't need a lot of ingredients to have a lot of great flavor!
Kale: You can use any kind of kale for this pesto recipe. I used Siberian kale because it's what we had in the garden, but it's not readily found in grocery stores.
Fresh basil: You can still add a bit of basil to this if you have some on hand, but it's not required.
Grated parmesan cheese: Please use real parmigiano reggiano for this recipe. The flavor is much better than what you get in that canister, and it makes all the difference.
Garlic: You can adjust the garlic to your taste level. Just remember it is raw so it will have a bright and pungent flavor!
Pine nuts: Pine nuts are the classic pesto choice.
Salt and extra virgin olive oil: The amount of these two may vary slightly, depending on your taste and whether or not you cook the kale.
Variations
Like I said, you can use any type of kale. Try curly kale or Tuscan kale.
Parmesan cheese is a classic choice for pesto, but since we're making a non-traditional one, why not use another aged cheese like pecorino romano or grana padano?
Pine nuts make your kale pesto creamy, but they can be expensive. I like walnuts as an affordable substitute, or try almonds or even hazelnuts. Use what you have!
Change up the herbs! Use soft herbs like tarragon, parsley and cilantro to amp up the flavor.
How to make kale pesto
Step 1: Chop the kale and grate the cheese
Use a good chef's knife to chop the kale. Use a vegetable peeler or box grater to grate the cheese.
Step 2: Toast the nuts
Place the pine nuts (or whatever type of nuts you're using) in a small skillet over medium heat and toast gently until fragrant.
Step 3: Wilt the kale (or not)
At this point, you can add the kale to a large skillet over medium heat and quickly wilt it. You could also make the pesto with raw kale.
If you choose to cook it, once it's done, wrap it in a kitchen towel and wring out the water.
PREP TIP You can make kale pesto with raw kale or cooked kale. Since kale has a hearty texture, cooking it for just a couple of minutes can make the final product a little smoother. Cooking the kale will also intensify the bright green color and reduce any bitterness.
Step 4: Finish the kale pesto in the food processor
Add the kale, pine nuts, and ¼ cup grated parmesan to a food processor with a pinch of kosher salt. Use a microplane grater to grate the garlic directly into the food processor.
Turn the food processor on and begin to drizzle the olive oil into the mixture until you reach the desired consistency. Taste and adjust salt if necessary.
Expert tips
Raw kale pesto can sometimes be slightly bitter. Cooking the kale lightly, just until it wilts can take some of the bitterness out. So if you plan to use your kale pesto in recipes like sandwiches as a spread or in cold appetizers where it won't get warmed up, you may want to consider this.
I always prefer to grate my own cheese! It will have a much deeper, richer flavor if you grate it yourself and since we only have a few ingredients in this kale pesto recipe, you want them all to shine and taste their best.
FAQs
How do you store kale pesto?
Store kale pesto in the refrigerator in an airtight container with a layer of olive oil on top to preserve the green color. It will keep for at least 5 days.
Can you freeze kale pesto?
Yes, you can freeze kale pesto - or any kind of pesto - for 6 months or more. I like to freeze it in ice cube trays, then transfer to a zip top bag, so you can just pop a cube or two into soups and sauces all year long. Get your green on and save it for a rainy day.
Can I make this dairy-free or vegan?
Yes! Just omit the cheese or use a vegan cheese or nutritional yeast in place of the parmesan.
How to use kale pesto
You can use kale pesto in any recipe where you would use classic basil pesto. It's a great way to add another green vegetable into something that you're already making!
More kale recipes
This kale pesto recipe is simple, quick, and versatile!
Made with just a handful of ingredients.
Ready in 15 minutes or less!
Endless ingredient swaps: use different cheeses, nuts or herbs.
It's gluten free and vegetarian. Can easily be made vegan.
If you enjoy this recipe, please leave me a 5-star rating! It really helps others find my content and helps my business grow! Thank you!
Recipe
Kale Pesto Recipe
Pesto doesn't have to be made with just basil! This kale pesto recipe will add extra healthy greens and lots of flavor to any dish from pasta to soups. 
Print
Pin
Rate
Ingredients
4-5

cups

kale

roughly chopped

handful

fresh basil

optional

1-2

cloves

garlic

depending upon your taste

¼

cup

Parmesan cheese

¼

cup

olive oil

pinch

kosher salt
Notes
Kale pesto can be frozen for up to 6 months. Freeze in ice cube trays for small servings that you can easily pop into sauces or soups. 
This post contains affiliate links. As an Amazon Associate, I earn from qualifying purchases. Read my full disclosure policy here.
Nutrition
Calories:
119
kcal
|
Carbohydrates:
4
g
|
Protein:
3
g
|
Fat:
10
g
|
Saturated Fat:
2
g
|
Polyunsaturated Fat:
1
g
|
Monounsaturated Fat:
7
g
|
Cholesterol:
3
mg
|
Sodium:
84
mg
|
Potassium:
225
mg
|
Fiber:
1
g
|
Sugar:
1
g
|
Vitamin A:
4495
IU
|
Vitamin C:
54
mg
|
Calcium:
117
mg
|
Iron:
1
mg