These are my favorite Christmas cookies. Spritz cookies are traditional German Christmas cookies made with a cookie press and lots of butter!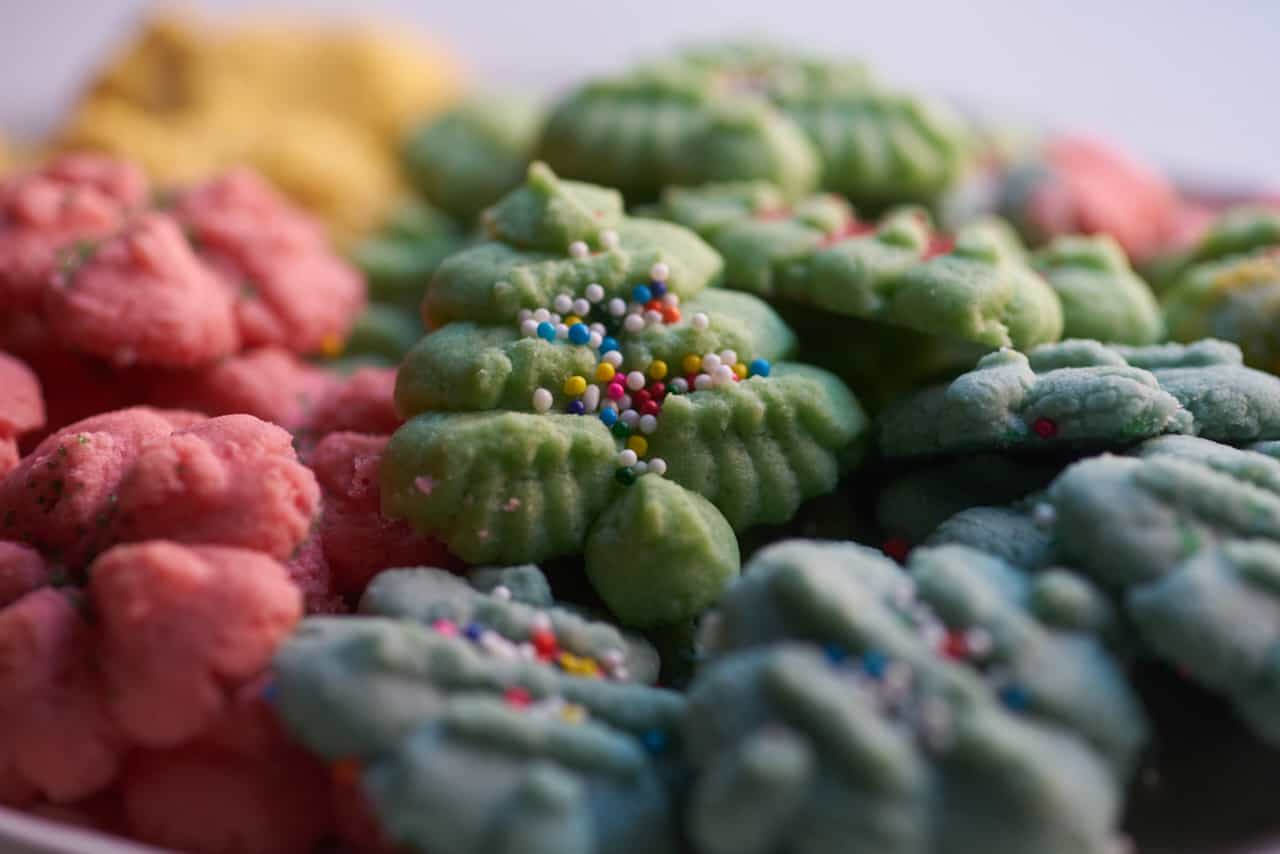 This post contains affiliate links. As an Amazon Associate, I earn from qualifying purchases. Read my full disclosure policy here.
Every year, my paternal grandmother made an enormous, near unconscionable amount of Christmas cookies. Chocolate chip, oatmeal raisin, cherry winks, butter horns and spritz. Dozens upon dozens of them.
It was as if she had magic, bottomless tupperware containers that just kept refilling themselves. She never ran out and had enough to send everyone home with at least three dozen. I can't imagine how long this took her. I lived two hours away and was never around to help. It must have taken weeks.
Spritz cookies were always my dad's favorite (and mine). That's the only kind he wanted in his take-home tupperware container. When he got them home, he would hide them way in the back of the pantry. I remember when, as a teenager, I discovered his hidden cookie stash.
I thought, "Really? This forty-two year-old man is actually hiding grandma's Christmas cookies from his teenage daughter and his (second, and younger) wife? Really?" It wasn't like he just put them on a high shelf or something. He pushed them way to the back of the shelf in the corner and put bigger things in front of the container so you could not see it. It was purposeful. Very purposeful.
I used to carefully plot just how many I could steal while he was at work without him noticing. It was even funnier that he thought he was getting away with the whole charade.
So, you know how you sometimes need to just come home after a hard day and whip up a batch of cookies real quick to make it all better? These cookies are not those. These spritz cookies take some effort, a bit of organization, and butter. Lots and lots of butter.
And a cookie press.
My mom and I have made these cookies together for many years. We had a metal cookie press with a hand crank that was a ridiculous pain in the butt to use.
One year, we planned out our Christmas cookie making day and went to retrieve the cookie press from the cabinet over the fridge. (That's the cabinet you only open once per year, because the only things in there are the cookie press and a fondue pot.)
The metal cookie press was not there.
But this spectacular 1970's masterpiece was.
Isn't it fab? It makes canapés! It makes 'interesting salads'! A new era of ease and versatility! And in case you need any more suggestions:
Here's the thing: My mother has no idea where this came from. No idea. She borrowed it from someone? Someone gave it to her? Did you give it to her? Anyone claiming this thing? Well, too late. It's mine now. The plug gets real hot when you use it, but it's fine, it's fine.
More holiday dessert recipes:
What are spritz cookies?
Spritz cookies are a traditional German butter cookie made with a cookie press. They are often made at Christmas time because you can make festive shapes!
How to make Spritz Cookies
Here's the thing: you have to use salted butter in this recipe!
Yes, I said salted butter. This is a super old-timey recipe from a 1960's Betty Crocker cook book. I don't even know if they sold unsalted butter back then. There's no salt listed in the recipe, so this works, trust me.
Preheat oven to 400 degrees.
Cream together the butter, egg yolks, sugar and vanilla. Use an electric mixer or a fork.
Sift flour into mixture and combine. (Once flour is initially mixed in, it's best to just use your hands to get all of the flour evenly distributed and bring the dough together.)
Divide dough into portions and add food coloring (again, use your hands to get it all mixed in.) My grandmother just made one big batch and swirled in a couple of drops of red and green, so all of her shapes were the same color. This saves a bit of time and energy, if you prefer.
You need a good cookie press. The cheap ones tend to break almost immediately. I'm never giving up my vintage 1970s splendor of a press, but this Marcato cookie press is made of anodized aluminum and steel, has a 10-year warranty and comes in fun colors! Lots of good reviews too.
Select shape, put dough into cookie press, and press cookies out onto cookie sheet.
I like to use insulated baking sheets for Spritz cookies, as they are small and buttery and it seems to keep them from getting too brown on the bottom.
Decorate if desired.
Bake for 7 minutes.
Allow to cool slightly on the cookie sheet, then carefully transfer them to a wire rack to cool completely.
Continue with various shapes and colors.
You'll have a little dough left in the press that won't come through. Save these bits, combine and make the swirly twirlies!!
Should you use parchment paper when baking spritz cookies?
No. Do not grease the cookie sheet either. They will slide all over and loose their shape. They need something grippy to grip onto. And since there is so much butter in the recipe they come off the cookie sheet very easily.
Can you freeze spritz cookies?
Yes! They are very delicate, so to avoid breakage use this process: once they are completely cool lay them in a single layer on a parchment lined baking sheet and freeze. Then you can transfer them to an airtight plastic container and keep in the freezer for about a month. (If you put them in a ziploc bag, they will dissolve into crumbs.)
More cookie recipes: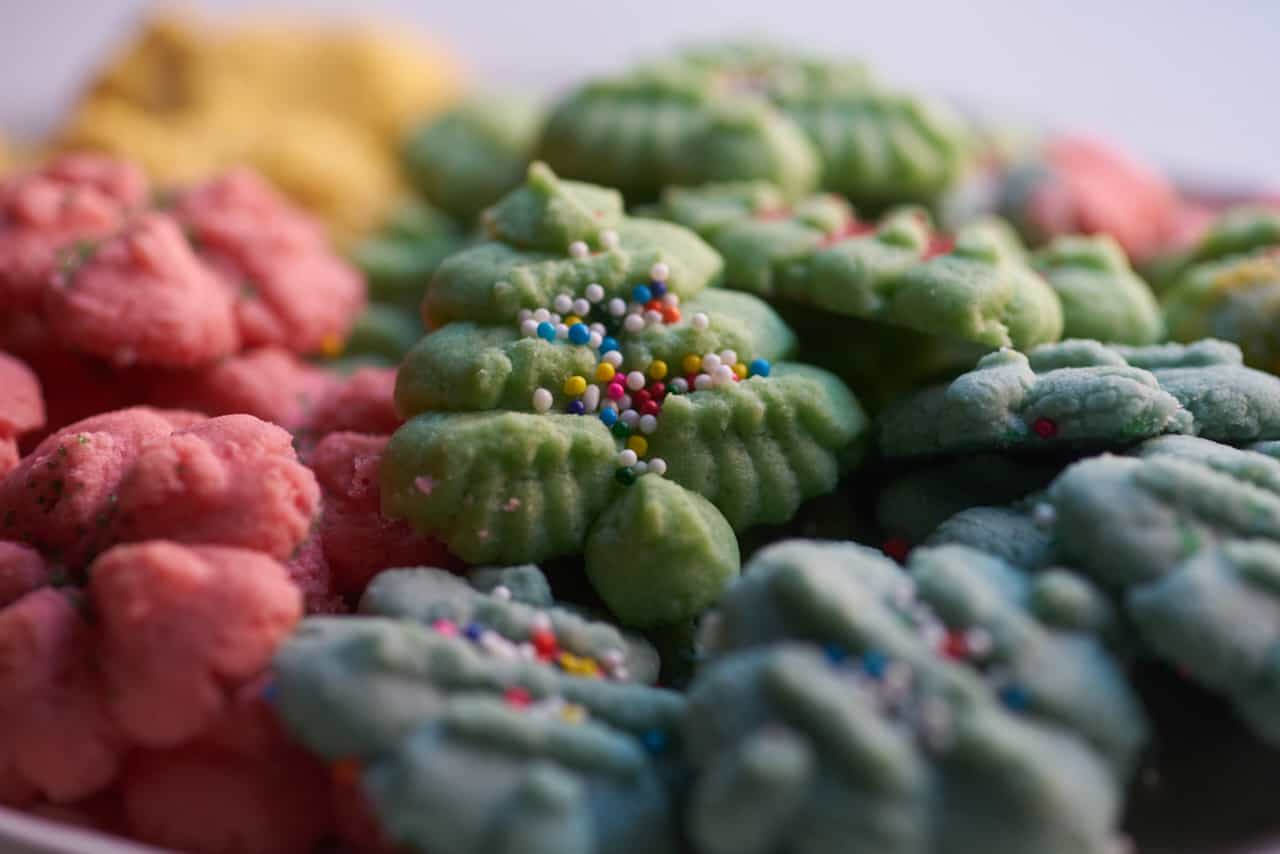 Ingredients
1

cup

salted butter

softened

2/3

cup

sugar

3

egg yolks

1

tsp

vanilla

2 1/2

cups

flour
Instructions
Preheat oven to 400 degrees.

Cream together softened butter, sugar, egg yolks and vanilla with a fork or electric mixer.

Sift flour into butter mixture and combine. Your hands are your best tool to ensure that the flour is evenly mixed in and bring the dough together.

Divide dough into portions and add food coloring, if desired.

Choose cookie shape, insert dough into press, and press out onto an ungreased cookie sheet.

Bake for 7 minutes until set, but not brown.

Allow to cool slightly on cookie sheet. Carefully remove from cookie sheet and allow to cool completely on a wire rack.

Store in an airtight container.
Notes
Don't use parchment paper and do not grease the pan. The cookies need something to hold onto otherwise they will dissolve into a pool of butter. I use insulated baking sheets when I make these so they cook evenly and don't get too brown on the bottom. 
You need a cookie press for this recipe. I have my vintage one that I'm never giving up. But if you're going to buy one, I'd recommend the best one you can find, because the cheap ones break very quickly. This Marcato cookie press is made from anodized aluminum and steel and has a 10-year warranty, as well as loads of good reviews. And it comes in fun colors! 
Nutrition Facts
Spritz Cookies
Amount Per Serving
Calories 96
Calories from Fat 54
% Daily Value*
Fat 6g9%
Cholesterol 30mg10%
Sodium 46mg2%
Potassium 12mg0%
Carbohydrates 10g3%
Protein 1g2%
Vitamin A 179IU4%
Calcium 5mg1%
Iron 1mg6%
* Percent Daily Values are based on a 2000 calorie diet.